I did this race back in 2010 when it was called the Health First Triathlon. It's one of my favorite race courses. Check that…I think this may be my favorite race course. The race has improved since 2010, when then run was definitely short, and the swim course more confusing.
The re-branding as Battle Of The Bridges sounds more cool as well. I like.
Packet Pickup
As always, when you have packet pickup at Running Zone, you know it's going to go super smooth. They have an area of the store dedicated to packet pickup. It doesn't hurt that it's so close to the house. I also appreciate the fact that you are able to pick up your packet beginning on Wednesday, so you aren't wading through a crowd of people the day before the race when you should be resting. This year's bag included another nice t-shirt and a really nice hat with a little extra sweat band inside–very important feature to me.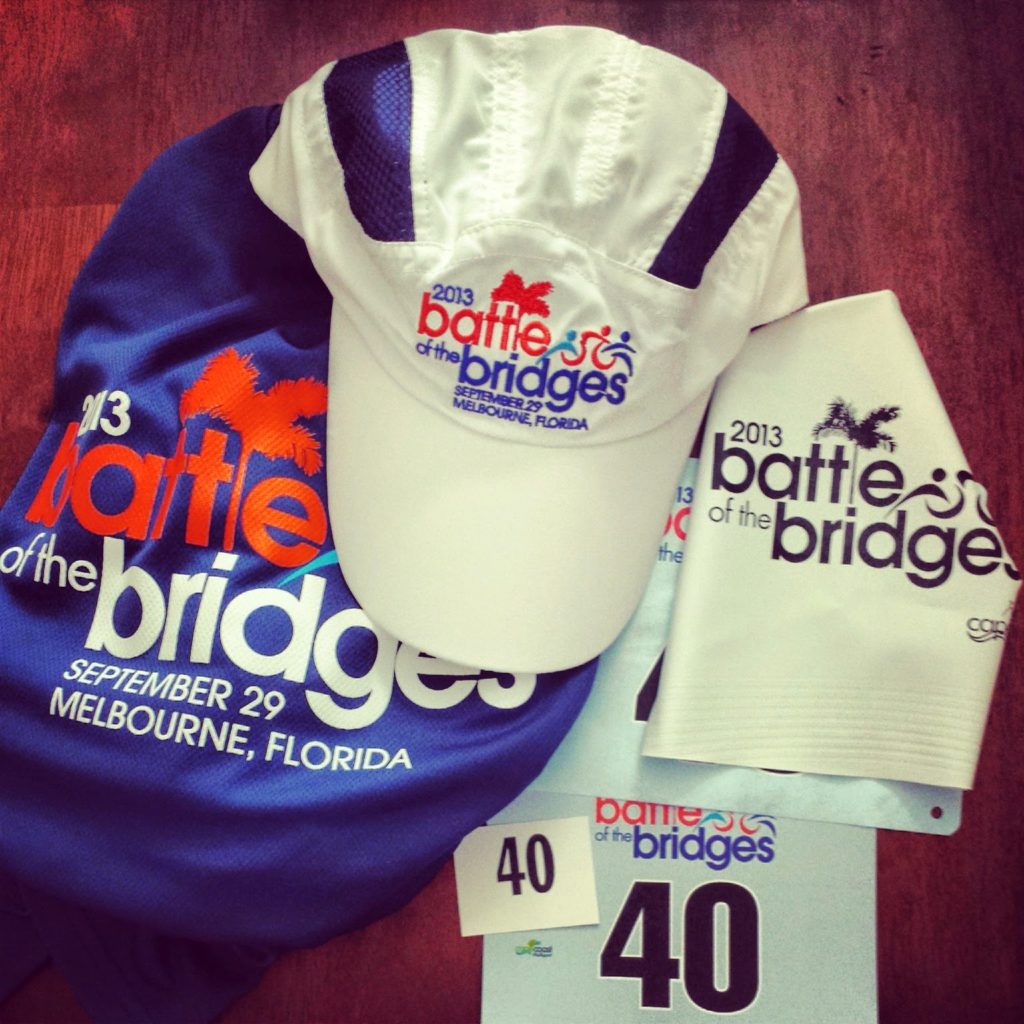 Race Strategery
Pacing: I was planning on using Neighbor Ben as something of a pacer for this race. I didn't tell him about this, but I'm sure he was plotting my demise for weeks too. 🙂 We're really close in everything–pretty much dead even on the swim. I think he's a faster runner than me, and I'd guess I'm faster on the bike if we were time trialing for 40k.
That's in stand-alone races…but tris are a different animal, and he and I approach them a little differently. I think I'm much more conservative on the bike to try to get my optimal run. I subscribe to the idea that it's impossible to have a "great bike and a horrible run". "Bad run" indicates over doing it on the bike, at least for me. My expectation was to finish pretty close to him on the swim, that he'd give a little more than me on the bike, and that I'd hopefully be able to close down the gap again on the run.
The best thing about Ben is that he's a competitor. I think I've been missing out on pissing contests for quite a while, and I'm really happy the guy who got my attention by easily taking the ball away from me at rugby practice when I first moved here now lives right down the street. I already knew from doing some training with him that there would be no quarter given and no mercy on race day.
Oh…and he also likes old school rasslin'.
Anyway, I've been doing plenty of intervals on the bike, so I decided it fit nicely to attack the hills and the sections of the course with headwinds to get my intervals in for the race, relaxing a little on the flat sections and a lot on the tailwind sections. Physics says this is the correct way to ride for optimal speed if you're interested in reading about it.
TIP: Physics is the most reliable thing in any race.
Fuel: This has been my biggest change recently. I've cut waaaaaaay back on sugars and grains in my diet. It got me over a hump to knock off another 5 pounds–mostly visceral fat I think. I've been running and riding on zero fuel to try and switch over to using fat for fuel (I have plenty) instead of sugar. I went with a banana and a Laura Bar pre-race and planned on another Laura Bar at the beginning of the bike. I had a couple of packs of Gu in my shorts, just in case, but I wasn't planning on eating them.
Diesel racing. No bonking.
Race organization and start
Ben picked me up at 5:45 to make the haul down to Eau Gallie. We talked about 80s hair metal and our favorite Rock and Roll Pump Ups the whole way. He understands the power that is Motorhead.
Parking was simple and ample, plenty of body markers at transition, plenty of space for everyone to get set up, and no lines for chip pickup. Even the port-a-potty lines were reasonable.
I was expecting the turnout to be a little bigger. There were only 3 waves for the Olympic distance race, and my wave was 2nd to go off with 15 people in my age group (40-45), and 103 participants overall. I like being in later waves because it gives you more people to chase on the bike. Not that I'm ever in the top swim pack in my wave, but the more people you can hunt on the course, the better.
The sprint had a larger field with 204 athletes.
Swim (1500+)
00:34:27 (5th in AG, 26th overall)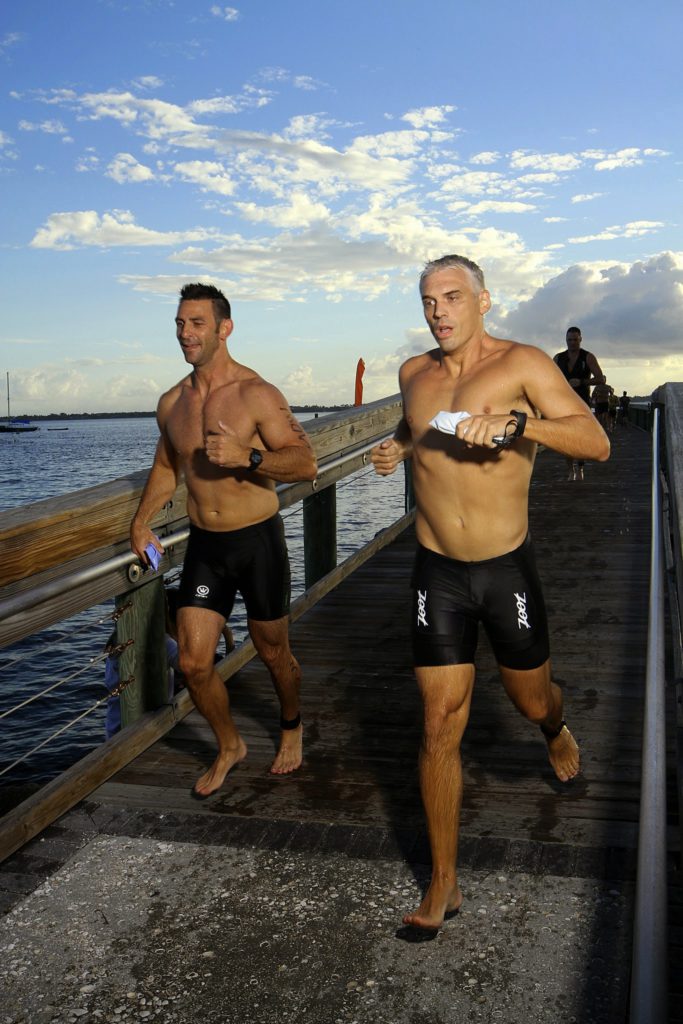 Ben and I swim this spot every Wednesday, and the buoys have been out for a couple weeks–no surprises showing up race morning and wondering if the course was laid out long. It was. No looking down at my watch at the finish and wondering why it took so long–I already knew it was long based on my training swims. I usually do 1500 in 28:00 +/- 30 seconds, but I knew this was going to be somewhere around 34:00. It actually felt shorter, especially on the leg going north. I thought it was maybe sub-30:00, but it didn't worry me at all to look down and see that big number on my watch at the finish.
I think this was important because I didn't feel any need to try and make up time on the bike. If I'd expected 28:00, it could have changed the complexion of the race. I was hoping for some rougher water because I've been out there training in the evenings when the water is typically much choppier and the current stronger. Anything that would give me an edge, you know?
Turns out, I did get a little bit of an edge on the swim–the edge of a rock. I cut my big toe on my right foot open when I took a dolphin dive at the very start of the swim. It played a little bit of a factor in the rest of the race, but I'm very happy with how I handled it. It was stinging for the whole swim, so I knew it was a cut, I just didn't know how bad it was. But it had zero impact on my swim, so I decided to deal with it if and when it became an issue.
T1
00:1:17
This was the best transition I've ever had. I went really minimal for this race. T1 consisted of of putting on a helmet and going! Shoes in the pedals already, no HR strap, etc.
I also committed to sprinting T1 and knew to (TIP) stay to the right coming off the pier to take advantage of the shower. I ran by a lot of people in T1 with the plan of jacking my HR up as high as I could. The thinking being that cranking it up would work to my advantage since I was going to put on my shoes and grab a bite to eat early in the bike. A higher HR would get the blood pumping into my legs, and I could let it recover while I was dealing with food and shoes.
Ben was turning into his bike rack about 4 steps ahead of me, so I knew I was right on track. I got to see some of my cheering section coming out of T1. It's been reported that I wasn't my usual smiling, cheery self. Part of that was that this was a shorter race, which made it a much more intense effort. Also, I was now thinking about dealing with the toe.
Bike (27 miles)
1:17:36 (9th in AG, 39th overall)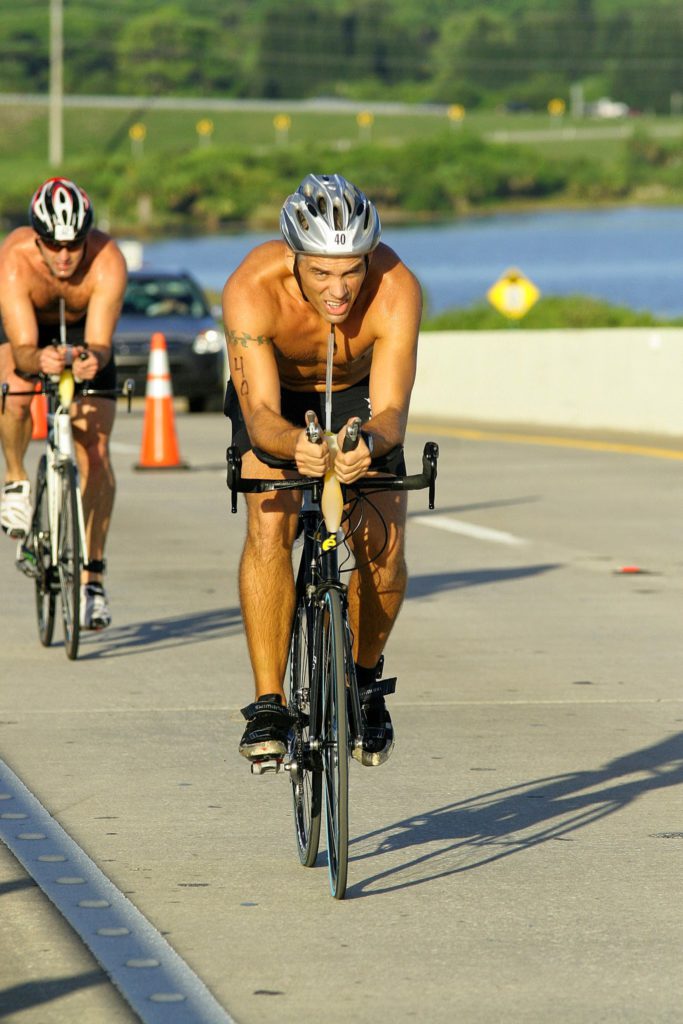 I love, love, love this bike course. It's fast, with only three 90 degree turns. Not much more than feathering the breaks until the dismount is required. It's not hilly, but the four small causeway sections keep the low-country people honest. I relish those "climbs".
Tip: I like to eat solid food at the beginning of the bike. I wasn't using a bento box for this race and didn't have any electrical tape, so I just crammed a Laura Bar into my helmet. This worked great! Once I was going on the bike I just reached up and grabbed the bar and started munching. Adding this to the back of tricks!
My heart was racing pretty hard when I mounted and started north on Pineapple. I revved up to about 18 mph and put a shoe on, revved up to 18 again and put the other shoe on, grabbed the bar out of my helmet and started a high cadence pedal staying over 18 while I ate and took in some liquid. I started putting some pressure on the toe to see if I could get some new information. It felt like there was a big knot/blister on the bottom, but I couldn't tell if it was still bleeding or what was going on. I decided I'd check it at T2 and figure out what to do about it then.
Ben passed me about a mile and a half in, and I was all the way to US1 before I could feel the HR start to come down. I knew he'd be going at it pretty hard, so I thought I was in good shape as long as he was in site. By the time we reached Pineda Causeway (6m) I was riding easy and ready to attack the climb. I took it at over 19 mph, but made sure I was riding high cadence and not mashing big gears (thanks Trainerroad!!!!). I passed a bunch of people, including Ben, on those first two bridge bumps and soaked in the recovery on the downhills.
I was going at a nice clip headed south on 513 but not pressing the HR. I estimated the wind was at our backs and that I'd need the juice when we headed north on Tropical Trail. I knew I was in a good spot when Ben passed me back about 3 miles into that stretch and I was going 23 mph.
Sure enough–headwinds as soon as we started up Tropical Trail. I focused on ignoring the numbers on my bike computer and concentrating on my effort level instead. This was going to be a 5 mile stretch of effort, and I approached it as a 15 minute Trainerroad sweet spot interval. I can't adequately express how much Trainerroad has benefited me on the bike. I'd really like to ride this course as a straight up time trial to see how fast I could do it. I've done this course faster in a tri, but never as efficiently and never with so much left over for the run.
The second trip down 513 was more of the same–relatively high speed with lower effort. Ben pulled out of site, but I didn't chase. I knew I had a little bit of work left to do on Eau Gallie causeway. It's a little steeper and longer than Pineda, but I kept it at a high cadence and went up pretty quickly. As I crested the top I pulled my feet out of my shoes and tried to see if I could learn more about the toe. Speed picked up pretty quickly, so I wasn't really comfortable trying to get a good look at it. Instead, I decided to spin the legs out and wait to see how my  towel looked in T2 after I wiped my feet. I also realized at this point that more information wasn't going to change anything unless I was absolutely gushing blood.
T2
00:02:00
A little slower than I'd have liked, but there were extenuating circumstances. I cleaned my feet off like I normally do and saw I was definitely leaving some blood on the towel. Nothing too bad, but I made absolutely sure my socks were going to protect me as best they could. The best thing about this race was leaving T2 and seeing the oldest offspring smiling and screaming for me at the timing mat. I heard her for a looooong way down the road!
Run (10k)-High Drama
00:51:50 (4th in AG, 30th overall)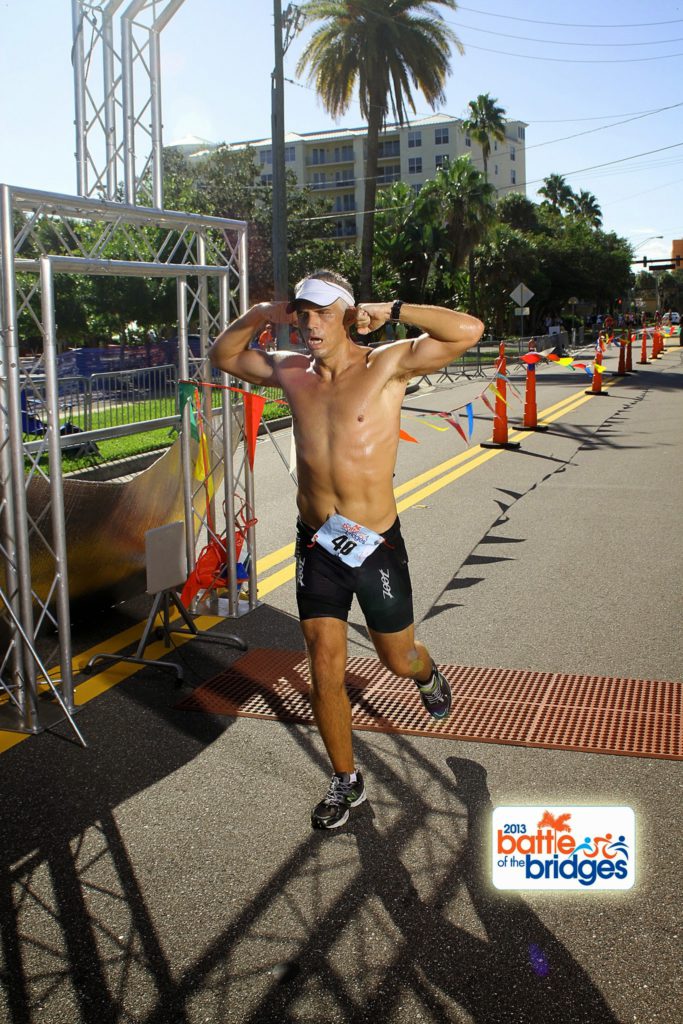 If you've read this far, you won't mind how long this section is. With every triathlon I do, I become more and more convinced that it's just a running race. This is where all the action happens.
My favorite thing about this run course is that the last three miles feature two hills. Well, they aren't really hills, just a big bridge. They aren't huge or anything, but that's all up to perception, and I don't perceive those to be insanely big hills. "You can take the boy out of Tennessee…" and all that.  Again, a slight advantage for me against the lowlanders. I actually enjoy running on hills, and it just so happens that we run intervals on this bridge every Wednesday right after we swim.
As soon as I left T2 and headed up Pineapple, I could see Ben a pretty good ways up ahead. I was hoping to be a little closer at this point in the race, but the only thing I could do about it was to run. I focused on two things–high cadence and toe evaluation.
I'm not going to lie. It hurt, and the first thought I had was that I shouldn't run and end up injured with a marathon looming in the future. I decided to keep running for a while and have a discussion with myself to help me decide what to do. Here's that whole conversation broken down into bullet points:
What hurts worse..the toe or the rest of your body because you just got off the bike? Rest of body.
DNF is off the table, so what are you going to do…stay out here and walk a 10k? Uh…that sounds horrible. No.
You're almost a mile in now. Look down…is your shoe bloody yet? No.
Ok, now you are a mile in. The rest of you body feels better now…is the toe pain enough to make you stop? HELL NO!
Decision made.
I was expecting/planning to run the first mile in 8:30 +/-10 seconds. The plan was to spend the second mile doing some math to figure out what kind of splits it would take from that point to go sub-50:00. My first mile split was 8:04. Oops.
I tried to let off the gas a little, but I think I got a little psyched out by the fact that I didn't seem to be closing in on Ben. He's a faster runner than me, but I thought I would have a shot at catching him if he'd overspent on the bike and I hadn't. Unfortunately, I didn't have any information about the gap between us at that point. There's a turnaround in the 2nd mile and I noted where he passed by me on his way back and took a split to see how long it would take me to get there. I was just less than a minute behind him, but it didn't seem like that was going to close anytime soon. Mile 2 split was 8:07.
But all of a sudden, he seemed closer. I watched him cross into the shade of a tree and took another split to see how long it took me to get to that point. Surprisingly, I was only down 35 seconds! I realized I was probably going to catch him pretty quickly at this pace, so I decided to slow down just a tad. I was 99% sure I had gone out too fast at this point and was not going to make it under 50:00–not with those hills coming up. The best thing I could do was try to regroup and get ready for the hard part. The hills were going to be my best chance to pass other people in my age group.
Mile 3 split was 8:13, and I passed by Ben just as we went up the little hill at Creel Street. As we turned onto Highland, I spotted another guy in my age group who had BLOWN by me on the bike. His head was bobbing a little, and it seemed like that small bump in the road had taken a lot out of him. I regrouped a little and passed by him, trying my best to appear fresh.
After that, I felt like I was running on my own for the most part. It's a little scary not knowing what's going on behind you, and there's no way to see the gaps between athletes again on this course until somewhere around the 5 mile mark. I let the unknown of what may be happening behind me drive me forward. Whatever was going on back there, I wanted to be as far away from it as possible. Also, I knew that there were plenty of people in my age group in front of me, and I wanted to apply as much pressure on them as I could. I'm making a huge assumption here that I even entered someone else's mind. I'm sure I didn't, but it was helping at the time.
Mile 4 finishes near the top of the causeway, and I got there in 8:32. I was pretty happy with that split considering the hill involved, and I estimated that most of my competition couldn't take that hill at the same pace I had. It was nice knowing that I've run that thing a bunch of times and have never quit on it, even when doing intervals. Race day is not the day to set a precedent like that.
The pain of a 10k was starting to build up, but I realized I'd completely forgotten about the toe!
Mile 5 is all downhill and flat, but I only ran an 8:37.  I think I lost focus a little on that mile, thinking it was a gimme. Disappointing, and something I need to make sure I don't do again, but I knew I had one more hard effort to go, and I'd soon be happy I'd given myself some breathing room.
Mile 6 up and down the causeway was an 8:32.  On the climb I saw another guy in my age group (who'd also smoked me on the bike) walking. I set my sites on him and gauged that I could catch him before the top. If I did, he'd have a hard time catching me back on the downhill, leaving me about a quarter mile to hold him off. I could not believe it when he started running about 2/3 of the way up the hill. I took another shot at him, but realized he'd gotten a rest during his walk, and now the tables were turned–it was going to be tough for me to catch him on the downhill and last quarter mile.
When he glanced over his shoulder and saw me, I knew the jig was up! He ended up beating me by 17 seconds. I talked to him afterwards and we agreed that both of us had dug just a little deeper from that point. He was visiting from south Georgia and said, "man…those causeways humbled me."
Finish Line and Post-Race Analysis
2:47:09 (6th in AG, 30th Overall)
I was spent at the finish…veins pumping battery acid just like they are supposed to be. They had nice cold towels and water for us and, as is the case for just about every race these days, nice medals. Honestly, I'm not sure a race of this distance warrants a medal, but the kids get excited about it.  I've decided they should only give medals for races that make me consider quitting several times during the event and to swear them off forever. Or if it's something I haven't done yet because I don't feel ready. So basically marathons and ultras for running, and 70.3 and up for triathlon.
Kidding, but not really. I wouldn't mind if they gave you the option to pay a lower entry fee and opt out of the medal. I'd do that for just about every race. I'd have immediately traded my medal for an extra cold towel and a cold cold beer. Personal preference–finisher medals just don't matter that much to me. The Missus says it's important for the kids to see them as a physical reminder of the effort that went into getting them. I get that part of it, so let the medal awards continue!
There was plenty of fruit, water, and baked goods at the finish line. Additionally, they had beer and wings at Squid Lips after the race was officially over. We didn't stick around for that though–opting for better quality beer by the pool at the house instead with a soundtrack featuring more Motorhead and rasslin' conversation. I was honored to be crowned the Davidia Dr. World's Heavyweight Champion of Endurance Sport.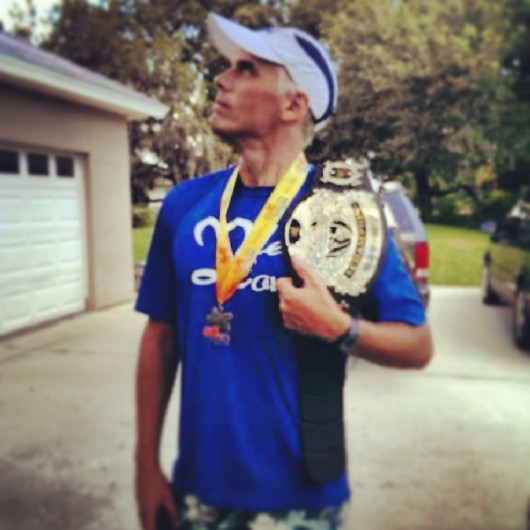 I have no illusions about my ability in the short term to win my age group (2:30:00 won it). My strategy is long-term. I plan to simply out-live everyone in my age group. See you punks in a few decades.
But I'm seriously motivated by the fact that the difference between 3rd and 6th (me) was only 3 minutes. It lights a fire under my booty–I think I can find 3:00 minutes somewhere in a 2:45:00 race. I felt like we were really fighting it out the whole way (at least I was) and I'm planning to come back to this race next year faster, and maybe with a (more) decent bike.
I think I lost a little time on the run because I failed to manage my pace correctly at the start, and I also gave up a little on that 5th mile. There's a chance I went a tad too hard on the bike and took a little off my run, but there's just as good of a chance that I didn't go quite as hard as I should have and left some time on the bike course. That's really hard to tell without a power tap.
The People Who Made It Happen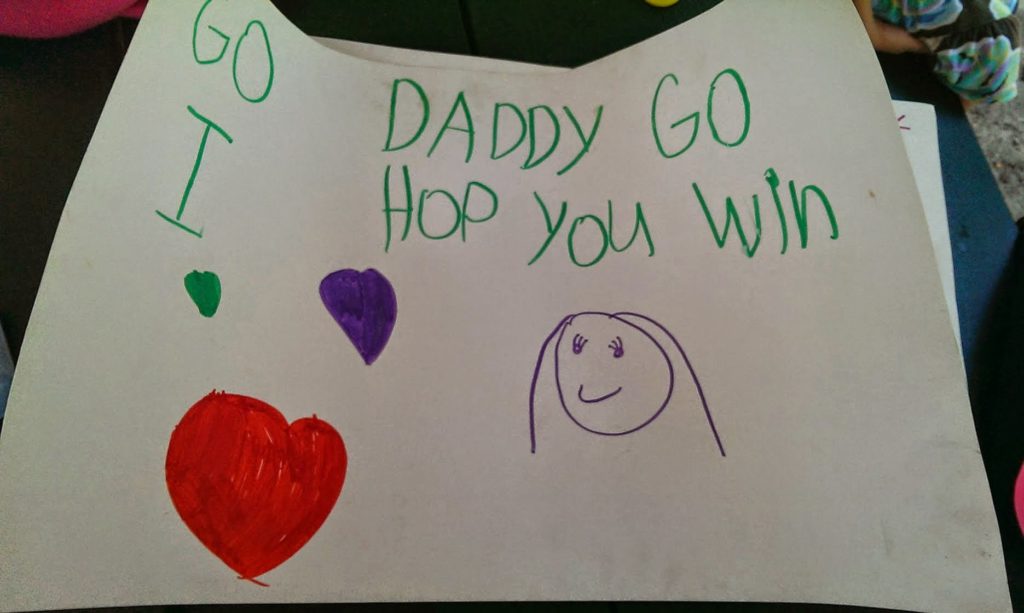 As always, I want to thank my family for coming out and supporting me on race day and working their schedules around my training when necessary. I try to minimize that, but sometimes it affects them. Also, thanks to all the volunteers and the Brevard County Sheriff's Department for keeping us safe on the swim and in the intersections and manning the aid stations.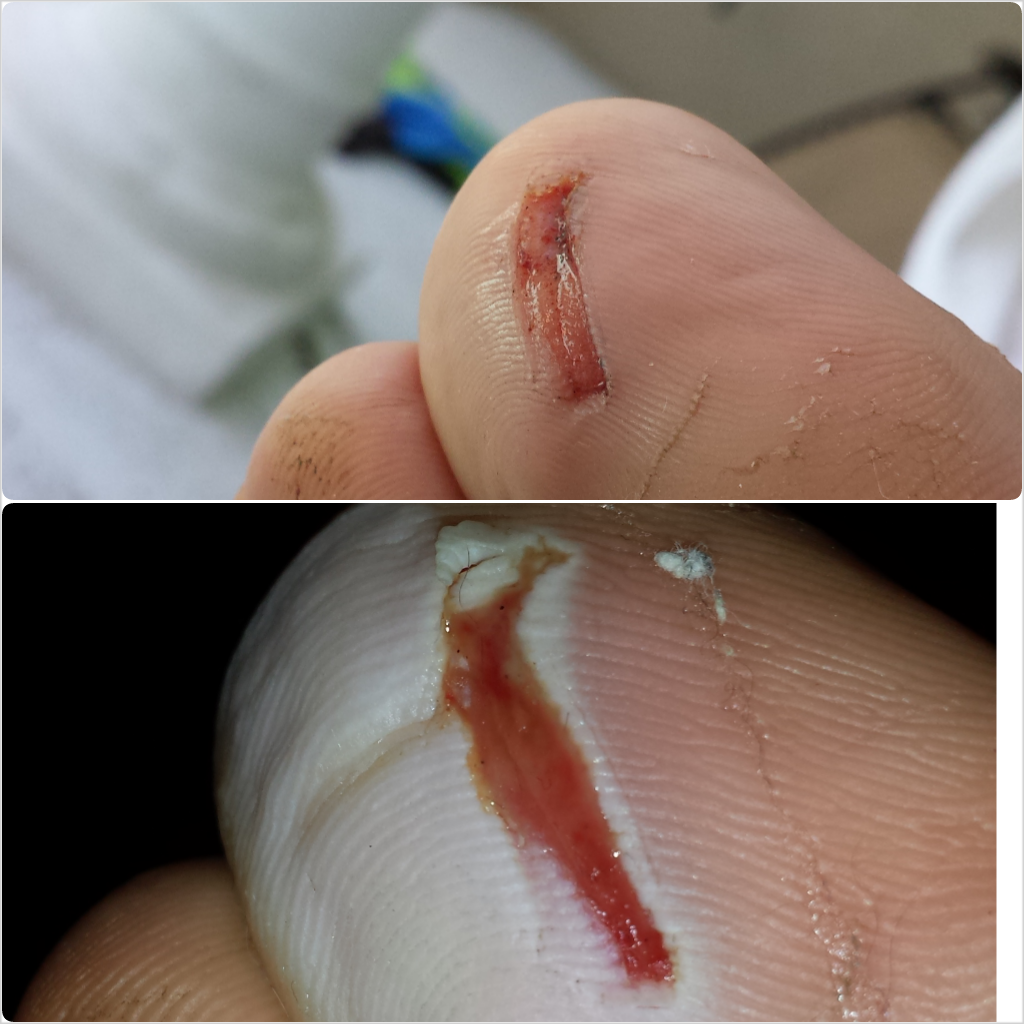 I am especially appreciative of the folks manning the medical tent who tended to my foot after the race. My toe box and sock were bloody, but luckily no stitches required. If you want to get a look at how nasty the situation was, click here. When I say "nasty" I'm mostly referring to the foot itself–not necessarily the cut. They cleaned it up (the cut, not the foot) and wrapped it for me. As I told the medic, I wanted to squeeze in as much quality medical care as possible before October 1.
Lastly, I want to give a shout out to Coach Brett Blankner at Zentriathlon.com. His podcasts have made a huge impact on my training, nutrition, and race management over the last two years. A little secret:  most of what he talks about applies to life in general, not just triathlon. Especially helpful for this race was an episode from a few weeks ago in which he discussed Zen racing and your ability to deal with the unexpected. What if the swim gets cancelled? What if your goggles leak? What if you accidentally drop a water bottle? What if you cut your foot open as the horn is blowing at the start? This episode was the first thing that crossed my mind when I felt the sting, and I was able to remember what I'd learned from it and remain calm.
Thanks a ton Brett! You are doing a good thing and making a difference for people!