After my rough experience doing the TTT a few weeks ago, I thought it would be a good idea to get some Zwift racing experience that didn't negatively affect others. Basically, learn how to race I guess.
I considered doing individual time trials and crits, and I chose crits because:
There are more of them
They included drafting (just like TTT)
They are usually pretty short efforts (8 laps), so they don't disrupt my FTP program much. I can just do these on an off day.
There are a bunch of Bell Lap races, so I thought I'd give this a go. I'll be able to race on the same course over and over, try different tactics and strategies, document them, see what works best, etc.
Added bonus–I think there may actually be a correlation between how fast I can do these races and how fast I can run a 5k. Remember, I'm cycling in lieu of running so much, but still hope to get faster on race day. We'll find out if this works..
I'm a boring nerd. I'm not going to even mention the spreadsheet I'll be using to track all this…yet.
I picked the Friday 11:45 am EST race to be my "standard". I'll be able to make that one most weeks, so hopefully I'll be racing against the same people over and over as well, which gives me another control point in the experiment.
Race Prep
Before racing, I did do a little recon. I watched a couple of races on this course live, and watched a couple of videos on how to race the course. Quick recap of what I learned and observed:
Like all Zwift races, start fast! Shoot for 4.5 w/kg
Flyers get caught in the first minute
Leaders ride the first lap in the high 3's w/kg
After a couple of laps, the chasers are ~ 7s back, and some riding solo
After the halfway point, leaders are riding in the low 3's, high 2's w/kg
People get strung out on the bumps–that's where attacks happen
Don't fall for attacks on the 7th lap

Strategy and Reality
The winners of the races I watched were finishing in just over 21 minutes and around 3.3 w/kg. My 20 minute best effort is around 2.7 w/kg.
So…I'm not going to win in Cat C, and if I can put in a solid effort, a finish under 25:00 would be pretty good for me. The game is going to be trying different approaches in multiple races to see what works best for me.
The strategy for this first race was simple–stay with the lead group as long as possible and see what happens. I knew I'd get dropped, but the question was "when?" and "what happens after that?"
Execution
The good news is that I think I found something that doesn't work. I was able to go out with the first group and stay with them for the first lap and a little beyond. But just like going out too fast in a running race, it caught up with me. Positive splits on every lap except for the last one (by two seconds…just barely).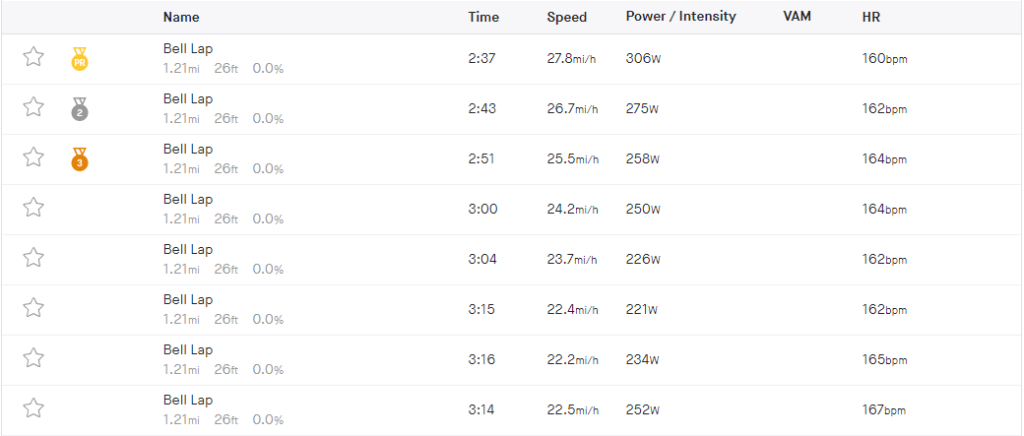 I was able to finish in 24:22, and I think I could do a lot better than this by evening out my splits (negative splits?), but what makes cycling way different than running is that I need to find a group to ride with to make it happen. I rode the last laps by myself in this race, and I think that really shows in the results. I was putting out wattage that were around the same or higher than previous laps, but not getting any benefit of the draft until the last lap.
My question and challenge for the next race is how to find that second group, and can I stay with them. I think the key for me to do my best in these races is to find the right group that can support me for as long as I can stay with them, or find a group I can ride easy with and attack from on the last lap.
One thing is clear–I'm not worried about winning any time soon.