If it ain't one thing, it's another. At least I didn't crash this time. Actually, the issues with this race probably worked out in my favor. For some reason, my trainer was not being controlled by the terrain of the map. If you've ever ridden this course and had to deal with the rollers at the beginning of each lap, you'll know why this worked in my favor. I was able to ride a pretty steady power profile for this race, but it would have been "cheating" a little if I'd been able to place highly.
I was able to ride the way I wanted for a big part of this race–didn't even try to stay in the lead group. Unfortunately I got dropped by the group I was in at the beginning of the 6th lap. I noticed that the next group was 38 seconds behind me, and decided to ride hard enough for them to have to chase (and catch) me, but easy enough that I could recover some and do well at the end.
I think I was in 23rd place at the time I got dropped.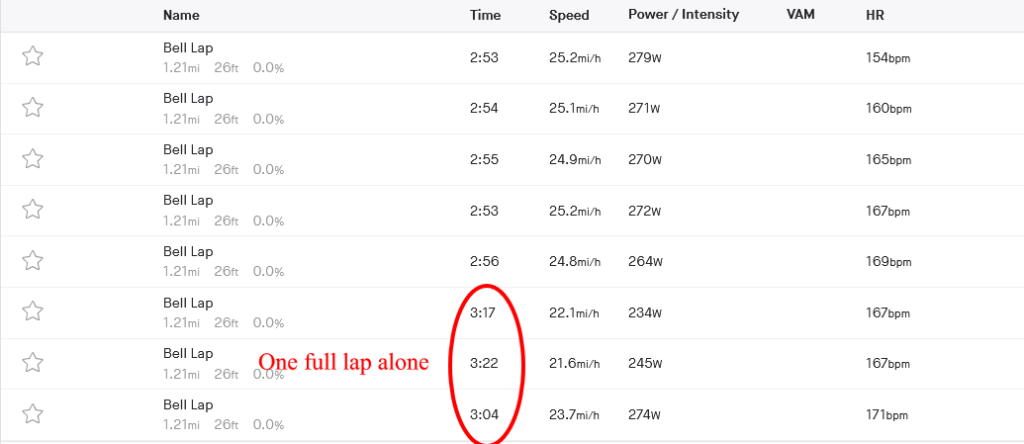 The plan worked out pretty well, but now I'm not sure it was the right plan. The other group caught me at the beginning of the 8th lap. I rode with them until the sprint finish. I ended up 24th (on the Zwift screen, not in Zwift Power), which means I basically only lost one spot.

I wonder now what would have happened if I'd ridden harder. Since I was able to hold them off for that long; would I have put them out of reach by riding harder? Would I have caught up with the next few people who got dropped from the group I'd been in previously? Hard to tell, but my average heart rate ended up being my all time high, which makes me think I was legitimately dropped and that I wouldn't have been able to continue that effort level that whole time.
Then again, maybe I would've had 45-50 seconds less total time riding. As it is, I was about 10 seconds slower on this race than the other one I completed without crash. I think I rode better though–my splits were pretty even up until the time I got dropped.
Then again, not hard to ride even splits when you can't feel the terrain. Meh.