5 Rides | 6.5 hours | 101 miles | 7661 ft
Kind of a step back week, right after a do-nothing week. That wasn't the plan going in, but I hit a little hiccup on Thursday and changed the weekend plan of doing tough rides on both Saturday and Sunday.
The week started off great with the Crit City Slam as part of the WTRL racing series. I was feeling pretty good and actually looking forward to doing the Specialized Roval Climbing Challenge up the Alpe de Zwift. I just knew I was going to snag a PR on the climb with this awesome bike and pretty good rest coming in.
I did not account for the heat in the fart barn, and I'm having to concede that the elements have finally caught up to me out there. I've done my best to get it all sealed up and insulated from the joy that is Florida in July/August, but in doing so I think I may have stopped so much air from coming in that I gassed myself. Check out this HR chart.
That's not the way I wanted this histogram to look. What had happened was…
I was going for it on the first few segments of the ADZ–not killing myself, but hitting a pace I thought would get me the PR. My heart rate was quickly rising though, and by the 16th bend I was already up in the mid-upper 160s. Anything over 170 is when I have to start backing off when there's a lot of ride left. Well, I tried, and tried, and tried, but recovery wasn't coming.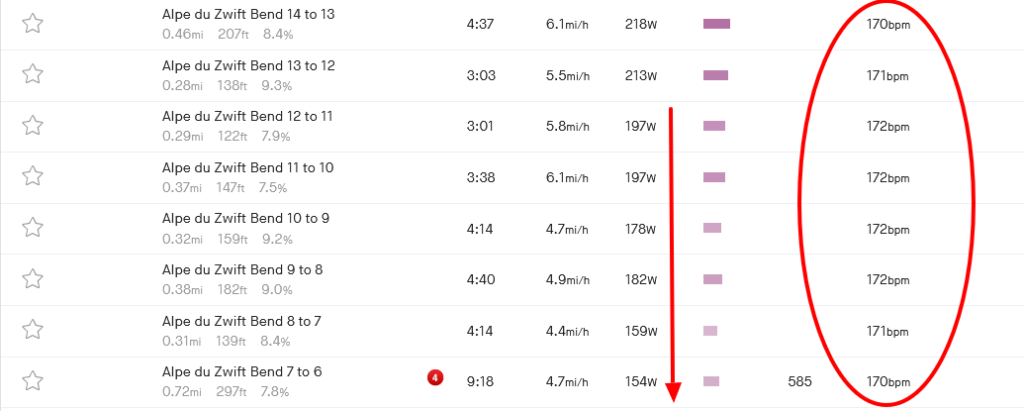 There's a silver lining here, and I'll get to it later. But I had to slow down to a crawl to get any kind of drop at all. The SHTF moment happened with about 2.6km left in the climb when I started feeling a little dizzy. Thankfully, I wasn't too proud to get off the bike and stand directly over the portable AC to try and cool off for a few minutes. I felt better when I got back on the bike, but the heart rate screamed right back up.

I basically pushed the bike up the rest of the hill virtually. Very disappointing– I really wanted that PR, but happy to know I can finish a really tough workout. That's the type of mental training I hope to get on the trainer.
Now, for the silver lining. I went 30+ minutes with my HR > 170. So that can be done. Now I know. Heart rate is not my real limiter. When I'm feeling like I'm on the rivet, it must be my legs that are failing me, not my cardiovascular system.
So I know who I can rely on now. Spinning my legs is a better option for me than mashing on the pedals. The low cadence work I've been doing hasn't hurt me any, but when it gets hard on race day I'm going to dance with the one that brung me.
Took some time over the weekend to recover. Did a sorta hard ride on Saturday, and I was still feeling this effort, so backed off again on Sunday.
Looking forward to the Richmond Challenge this week. When I looked at the WTRL schedule originally, I was a little disappointed that the C5 course was only a lap, which wouldn't give me much of a chance to compete on the hills. Luckily, autocat for this week put me at a C4, which means I'll get two laps, and a chance to make up for my poor climbing.