107.8 miles | 6 hours | 5,587 ft
Another low volume week–not enough saddle time, not enough climbing. But I was still feeling a little tired, and now that I'm one ride into the new week I'm starting to fill a little stronger.
On the upside, I got outside on Friday and got in some hill repeats with some fine folks who are also going to ride 6 Gap. I missed recording a little bit of the ride because I'm not experienced enough with my outdoor electronics, but the result was somewhere around 3k feet of climbing in somewhere around 40 miles. That comes out to around 75ft/mile. To give some perspective, 6 Gap is 112.4 ft/mile, and the efforts are going to have to be sustained for a lot longer.
I'm keeping that in mind.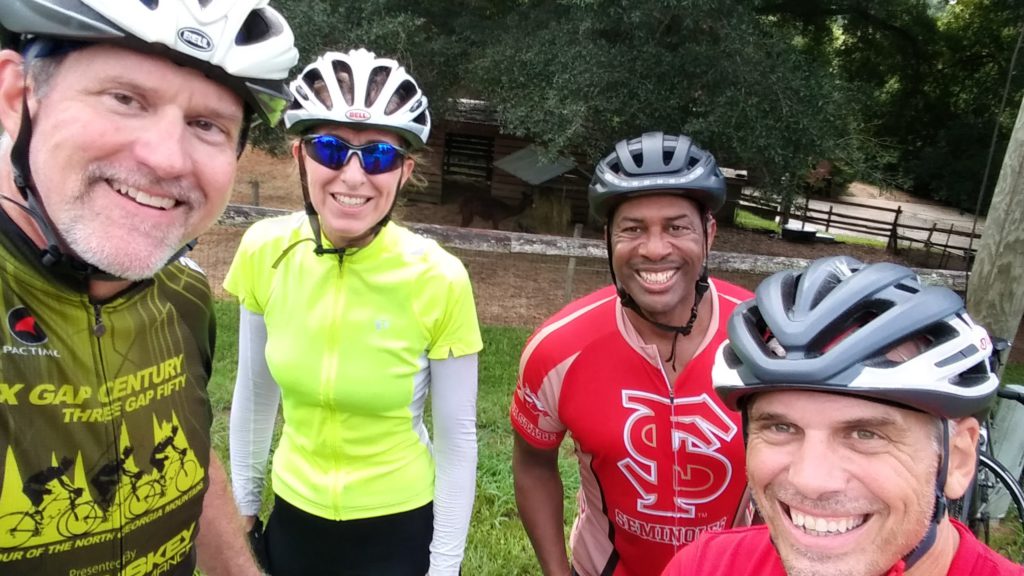 But the company was great (much better than being stuck inside with myself), and I have to throw a shout out to Mo for giving me not only a ride out to Clermont, but also a really enjoyable time there and back. Great conversation, and the time flew by!
It was great to get outside and get a little confidence. You never know when you set out to do something more unconventional like train almost exclusively indoors how it will work out, but I think I'm headed in the right direction. I'm continuing to ride longer sustained climbs on Zwift, and I trust it will pay off on pain day. Honestly, I was a little worried about outdoor descending as well. I haven't ridden outside for ten years or so (15 years on real hills), and I wasn't sure if I'd lost some of my nerve being so much older. I think I'll be ok though, and I'm not afraid to use brakes if I need to.
And just let me say…man, it's so nice to be outside on rollers and constantly changing saddle positions. Soooo much more comfortable than trainer riding. And I can't forget that the weather on September 26 in north Georgia is going to be a lot different than late August in central Florida. That definitely goes into the plus column for me.
The night before this ride was the weekly ZRL Team Time Trial with the DIRTy Wattz, and it had me a little concerned. I was soooo off in this race, physically and mentally. I couldn't get the pull order sorted out in my head, and I felt like dookie. Luckily, I had my mic muted and the team couldn't hear me begging to be dropped, so I was able to keep the effort up and finish with them. I only had to be rescued back into the pace line once. That's once too many times, but lucky to have a team that's willing to do it.
I skipped the Zwift Classics race on Tuesday to help a friend unpack some boxes and get settled into a new house, and maybe all that lifting and sweating can account for some of the fatigue I was feeling. I'll be back at that race again this week–it's the last one on the schedule and is pancake flat. Perfect for heavier guys who are geared for longer slow twitch efforts. Fingers crossed!
Also realizing I haven't done a weigh in for quite a while, at least not on the blog. I'm walking around at 191-192 pounds right now. That's before getting on the bike and pedaling. I'm usually around 185 pounds when I get off the bike after a long ride, even with the copious amounts of water and food I consume. So I'm probably splitting the difference at around 188 for most of the ride. I'd like to be 185 at mile zero on pain day and finishing in the mid 170s. That can still happen, but it's going to take some discipline that I don't know if I can muster between now and then. It's taking a lot of discipline for me to get the time in on the bike. I'm not exactly enjoying those longer efforts.