Before I get into the actual race, I'm going to take a moment to recognize the organizers of this event and the people of North Georgia. This was an amazing experience–start to finish. Everything was well organized, ran on time, plenty of options and amounts of food/drink at the SAGs, lots of friendly and helpful volunteers, law enforcement assistance at the turns and helping tamp down the speeding vehicles, etc. Well done!
This is the first endurance event I've ever participated in that had showers available at the finish. This was an amazing amenity, and it sets the bar pretty high. I've had some great showers in my time, and this one was right up there with the best. It changed my day post-race for sure.
The "Why"
My co-worker Dallas has been gently pushing this ride on me for about 5 years–the whole time I've known him. For most of that time I didn't even own a road bike. But when my friend Bill died in July 2020 his wife Stacey wanted me to have his bike. I was reluctant, but Dallas was the one who convinced me that taking it was the right thing to do. He also reminded me that Bill would love for me to ride, not just store bikes.
Bill and Stacey lived in Cumming, Georgia for many years, and Bill loved riding the roads in the Helen/Dahlonega area.
He bought this bike to ride these roads. It was the bike's purpose.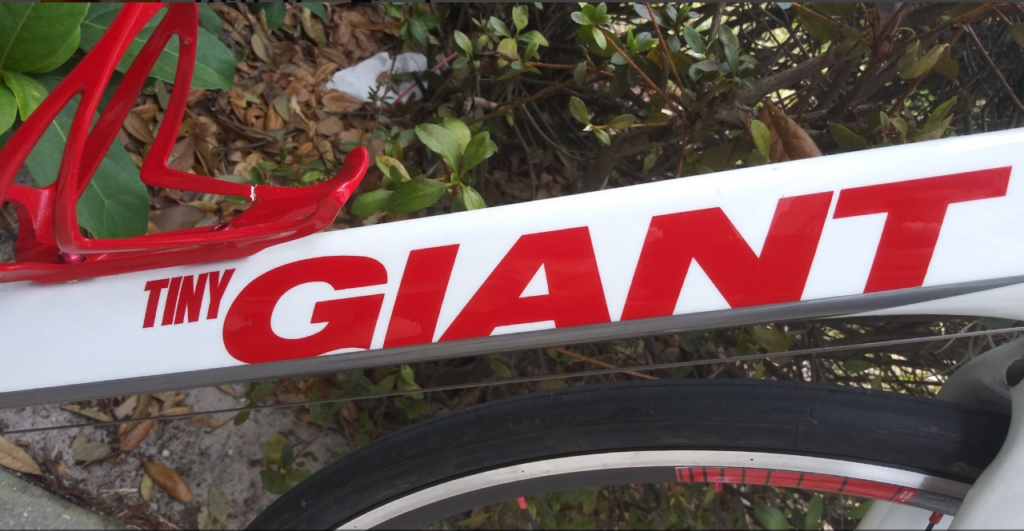 Dallas's wife made some cool decals for me to add to the bike right after I got it. As its new owner, I thought it would be really cool and meaningful to take it back to where it belonged and where he loved to be.
So…this one was for Tiny.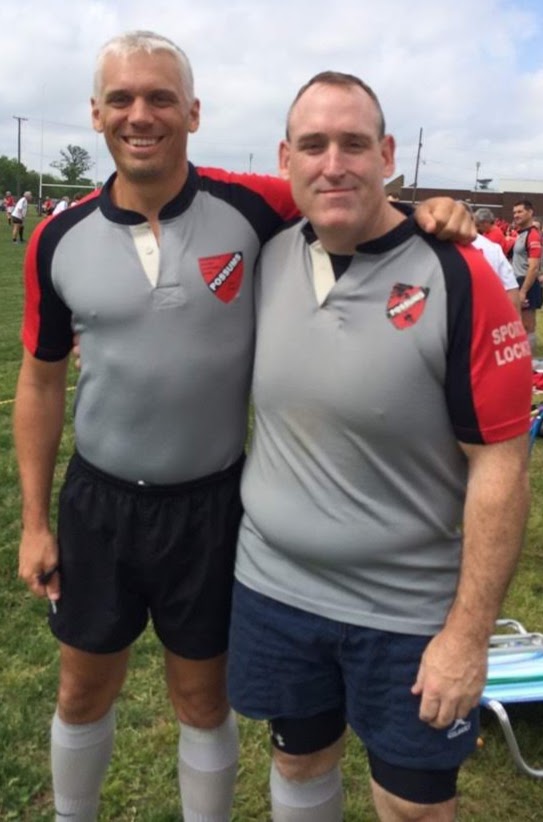 The Posse
I did this event with a mix of people I know and people they know. Primo Juan came down from Louisville to do the ride, and I can't thank him enough for driving his vehicle and, more importantly, doing a lot of shepherding for me during the race. I'm not super-experienced in big group rides, and he did a great job at the start especially of keeping us in safe and fast lines. He picked out good groups for us to stick with and kept the pace fast and easy at the same time.
His ability to climb is inspirational. We have dubbed him "El Chivo".
Dallas drove up from Florida with his friend Dave as well. As I said, a lot of the the credit (blame?) goes to Dallas for convincing me to do this race. It was really cool to get to start the ride with him. I think we were together for the first five miles or so.
Justin is a co-worker and training partner from back in the day, and he was in with his brother-in-law Todd. I've done a few rides with these guys since we got up to Tennessee, and they are both my kind of people. Was so happy to get to share this experience with such a fine group.
Check In/Expo
Nothing to say other than "super smooth". Drive through check in!!!! Of course we got out and walked around the expo, but if all you wanted was a race packet, it could not have been easier.
Justin and Todd were picking up packets at the same time, and we decided to go on an easy 10 mile ride just to work the car ride out of our legs. It was really nice, but also a little jolting to see that the rollers start right out of the gate. And they are there at the end. Sunday was going to be a tough day.
Race Day Logistics
I was a little late booking a hotel room, and Juan and I ended up staying about an hour away in Jasper. It was worth the drive, because we had some amazing barbecue the night before.
We woke up at 5:00 am and arrived at Lumpkin County High School at 6:30 after a coffee stop. We wanted to get a spot in the main lot, and luckily we were one of the last 10 or so cars that made it. We had plenty of time to relax and prepare for the start, and we met up with Dallas and Dave at the queue. We weren't sure where Justin and Todd were at that point. As I said, really enjoyed getting to start the race with Dallas–he's a big reason I was doing this ride in the first place, and almost all of my outdoor riding this year has been with him.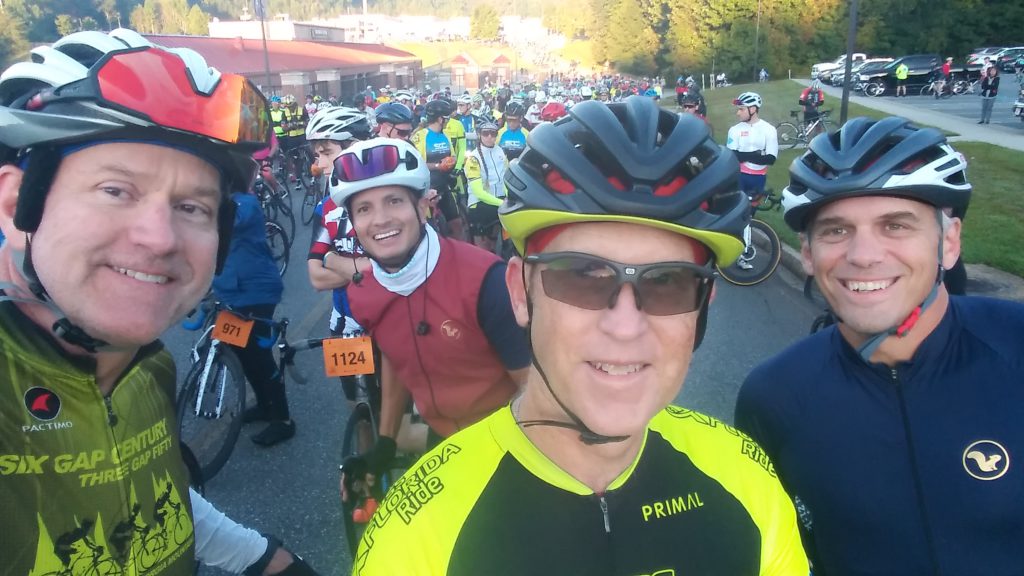 The energy at the start felt a lot like a triathlon start to me with one exception–even though there was the same nervousness in the air, there wasn't a competitive vibe going on at all. Maybe up front it was different, but our spot in the queue was just nervous, but friendly. That changed later…I'll get to it.
Summary – Ride Plan and Execution

Spoiler alert: I'm really happy with my execution for the entire race. One thing I like about cycling, especially with the trainer, is the amount of data you are able to collect for planning. You can't control things like temperature and wind on race day, but my goal is to have so much data before the race starts that I can develop a plan based on things I can control, like what cadence I want to ride at, what I'm willing to let my heart rate get to, and how much power I'm going to produce.
I don't have a power meter on my bike, so that's a little tougher to gauge when I'm not on the trainer, but I'd calculated a couple of months ago that I should be able to average 180 watts for an effort of 7-8 hours, and my Strava estimated power for this ride ended up being 188. Spot on. I'll take it.
But without a power meter, this ride was going to be all about heart rate management. The plan was to finish overall with an average of Zone 3 (143-154). In order to accomplish this I wanted to keep my HR really low at the start, keep it under 160 for most of the climbs, and allow myself to get closer to red lining on Hogpen Gap and Wolfpen Gap–what I'd estimated to be the toughest climbs. I know from doing a bunch of races on Zwift that I can maintain that high Zone 4, low Zone 5 heart rate for at least 30 minutes. I also know how I feel after doing that, and I wanted to avoid that feeling. I ended up averaging 144 for the ride. That's on the low side of the range, but I'll take it based on the last third of the ride. That was the toughest portion to manage, at least for me.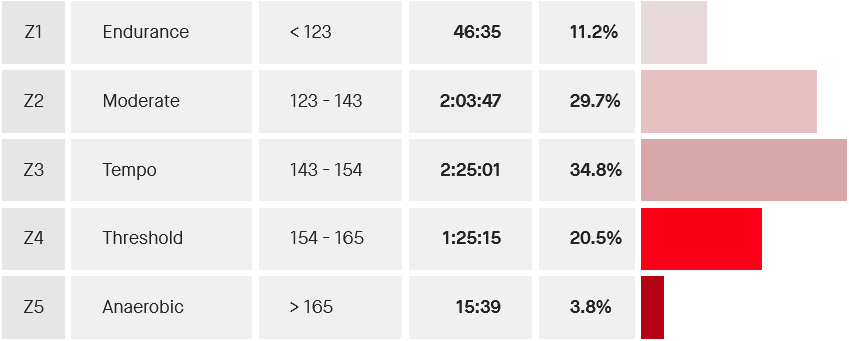 The Details – Start Through Hogpen
I think thirds is the best way to break this down–not 1/3 distance necessarily, but three separate sections. At least that's how I had broken it down in my plan. For me, the first third ended at the Hogpen descent. I'd game-planned this ride assuming I'd be solo or close to it the whole way. Juan gave me some really solid info around the bunches of riders early on and that minutes could be banked here with minimal effort. The Neel's Gap climb started at around 20 miles in, and I hit that with an average HR of 130. NICE! Bonus was that we were averaging 17.7 mph at this point. Lots of speed with little effort.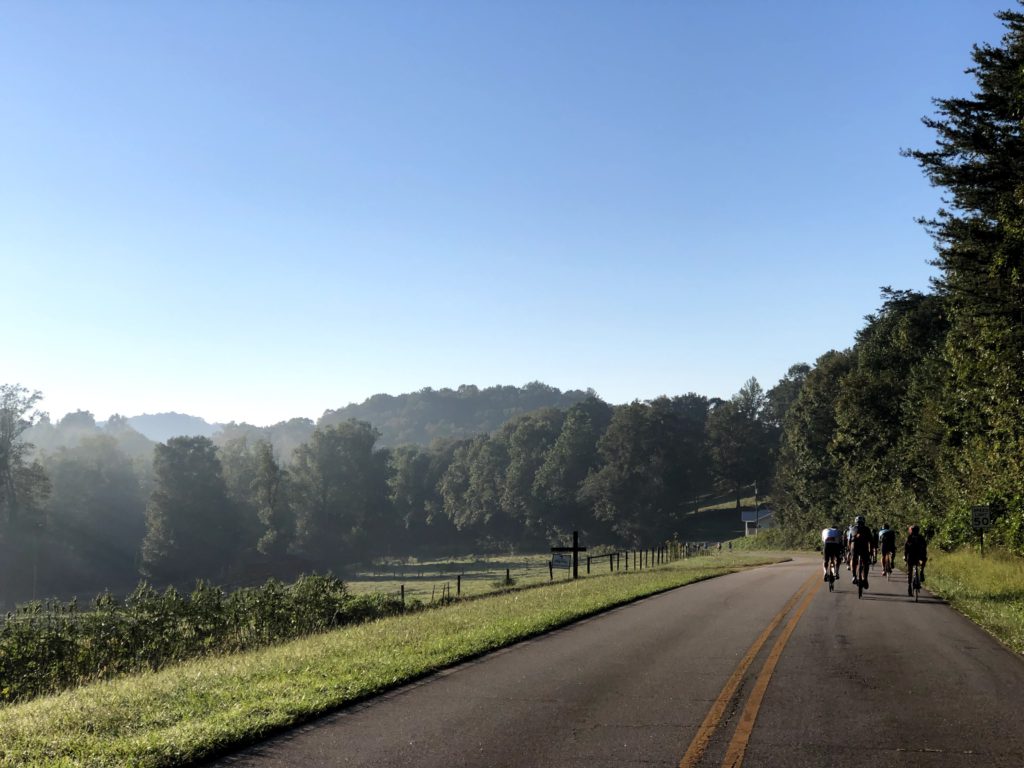 I haven't climbed any of these before, but Justin's recon gave me the knowledge that I'd done a climb very similar to Neel's many times before. I really kept myself in check on this first climb–HR average was 143. The cool temps helped a lot, along with the really nice jersey Juan gave me that zipped all the way down. Was feeling great at the top, and the descent was so much fun!
That left us a little break before Hogpen. The plan here was to put in a little bit harder effort, but nothing too out of control. I was going to have to use all my gears on this one, and I knew it was going to be a solid 30 minutes of climbing. I can't emphasize enough how much all those trips up the Alpe du Zwift prepared me for this climb. It takes me 75+ minutes to do the ADZ, and that makes Hogpen seem pretty manageable. I put in the effort I wanted–156 BPM average, and solidly in the 160s for the second half of the climb, which is steeper.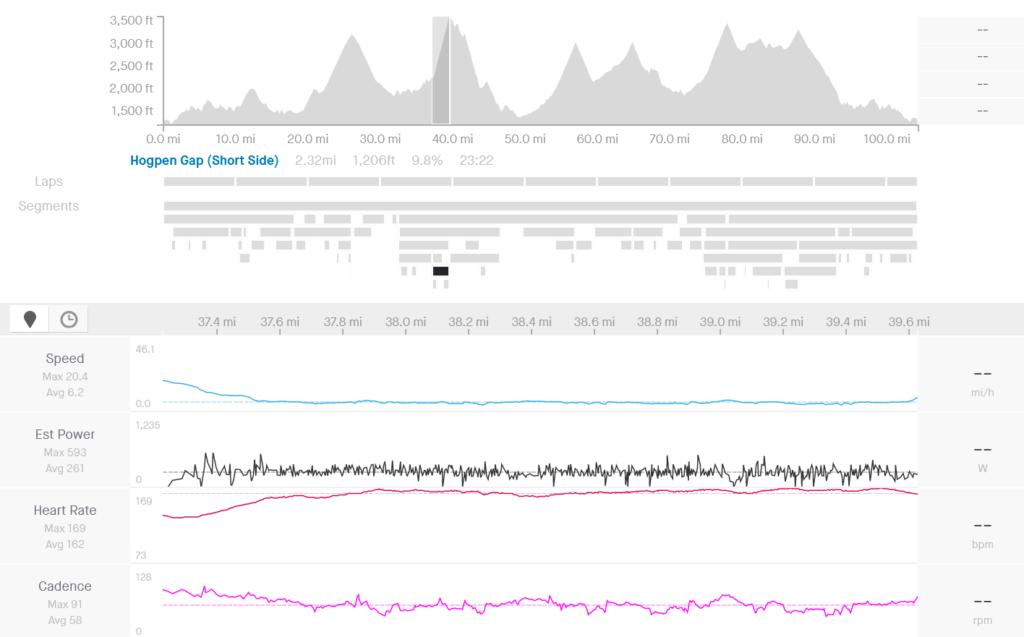 Juan and I had picked up Justin along the way, and we had a chance at the top to reload on goodies and get some photos. I knew Juan and Justin were both a lot stronger riders than me, and I encouraged them to go on, but their plan was to stay conservative and together-ish until the last 25 miles or so.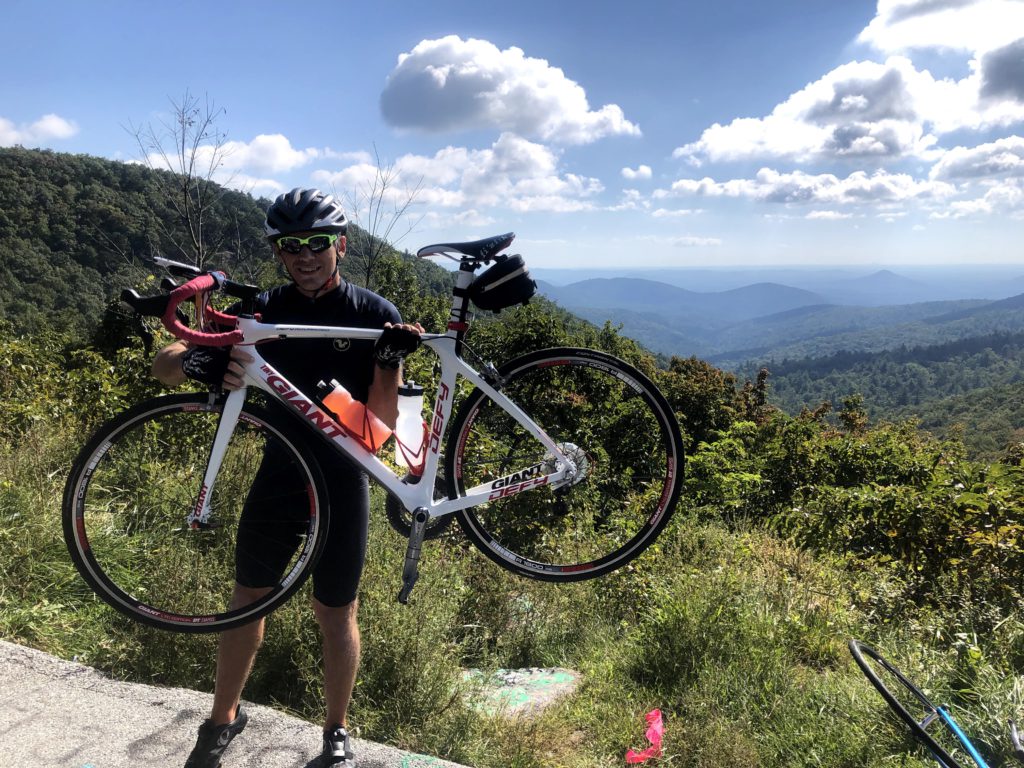 At the summit, you could feel the mood had changed. The excitement and good humor in the air was palpable. We'd just completed what was technically the hardest climb of the day. Time to restock, get some photos, and have some fun descending into what was mentally going to be the toughest part of the day.
The Details–Middle Of The Race
Segment two was three gaps long–Unicoi, Jack's, and Wolfpen. Unicoi was a pretty gentle climb. I saw Juan again at the top (Justin was steaming to the finish already), and I think this was the last time I saw him until the finish. I was feeling the beginnings of a cramp, and I took the time at the SAG to rub it out, stretch, and make sure I got everything I needed to finish the race.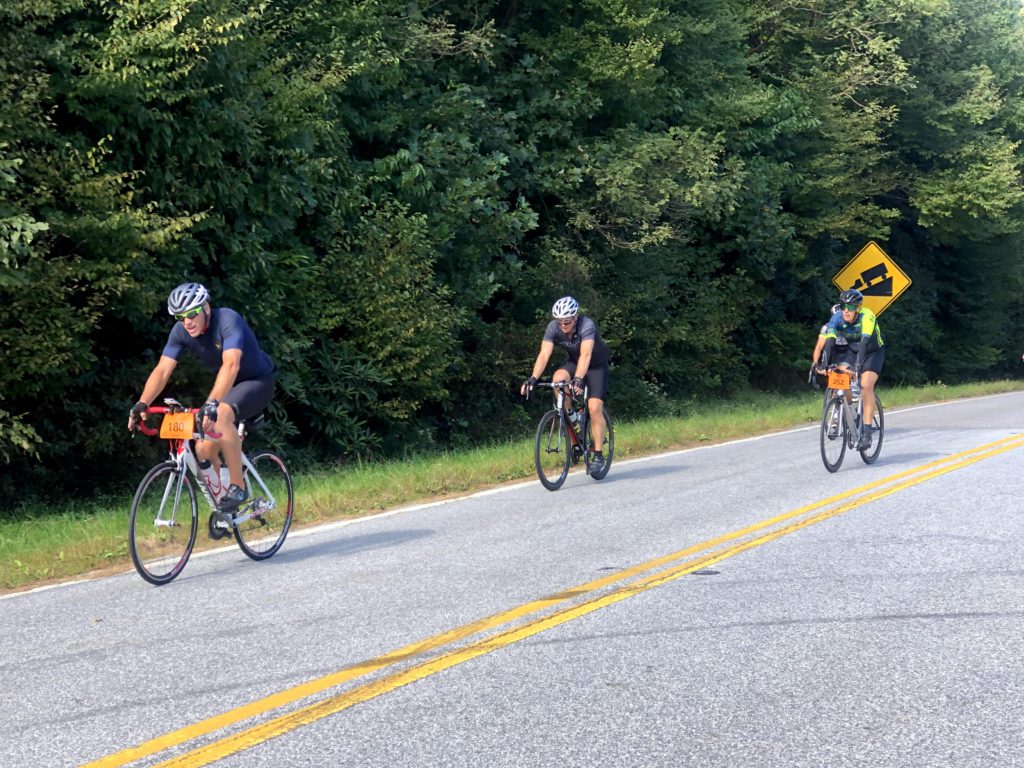 I did get a little tripped up on Jack's Gap, and was almost sucked into making a mistake. My Garmin 1030 registered 12 "climbs" on this course, but for some reason Jack's Gap didn't show up as a climb. I'm not sure why. I wasn't sure where it started, but I knew (thought I knew) I wasn't on it yet. This "climb that's not a climb" seemed to go on forever, and it had me a little nervous about what was ahead. That was a little defeating. If this wasn't a climb, I was going to be in big trouble when the actual climbing started, because this was not an easy haul.
I was a little worried.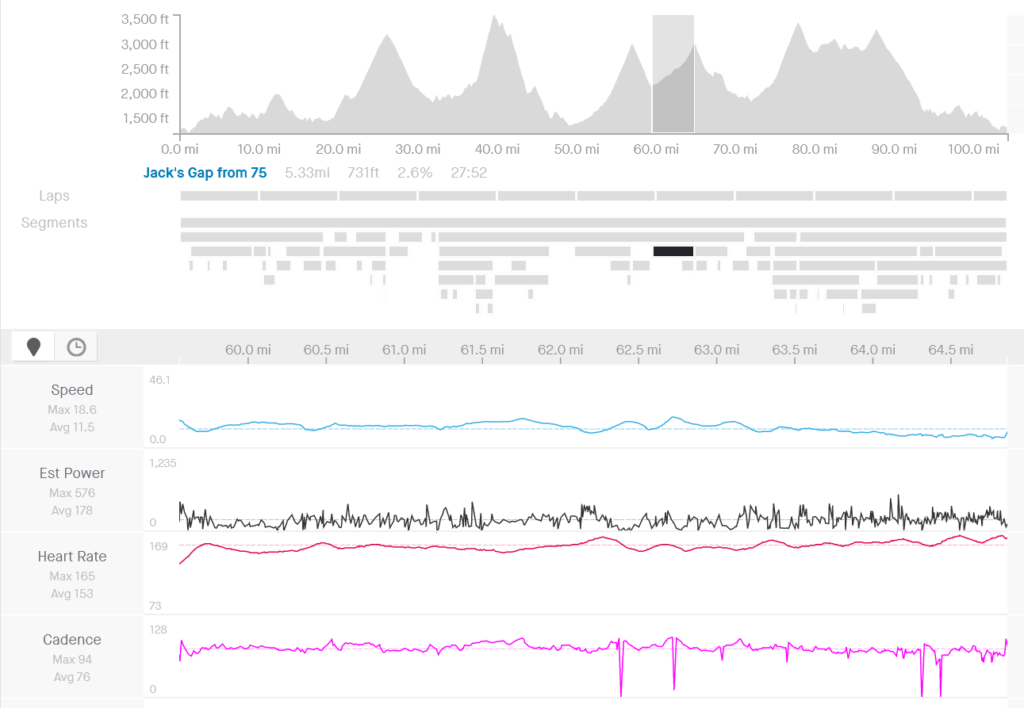 It was only at the top when I saw a sign that I realized I'd reached the top of Jack's Gap. I ended up averaging 155 and 153 BPM on Unicoi and Jack's respectively. It was time for what I'd guessed would be the toughest climb of the day. Wolfpen isn't as hard as Hogpen on paper, but we'd climbed Hogpen at around 35 miles in. Wolfpen was going to hit us at 70-something miles with at least one big climb and a few smaller ones already in our legs.
Wolfpen did not disappoint. Well, I guess it did–I was disappointed to be right about it. It was a dang tough climb. I'd planned to push a little on this one, and I did. Constant cadence, HR in the mid 160s for the last two thirds, and I knew that the race was mostly downhill from here. This last big push was probably responsible for the only real unexpected event of the day, which happened early in the last section of the race.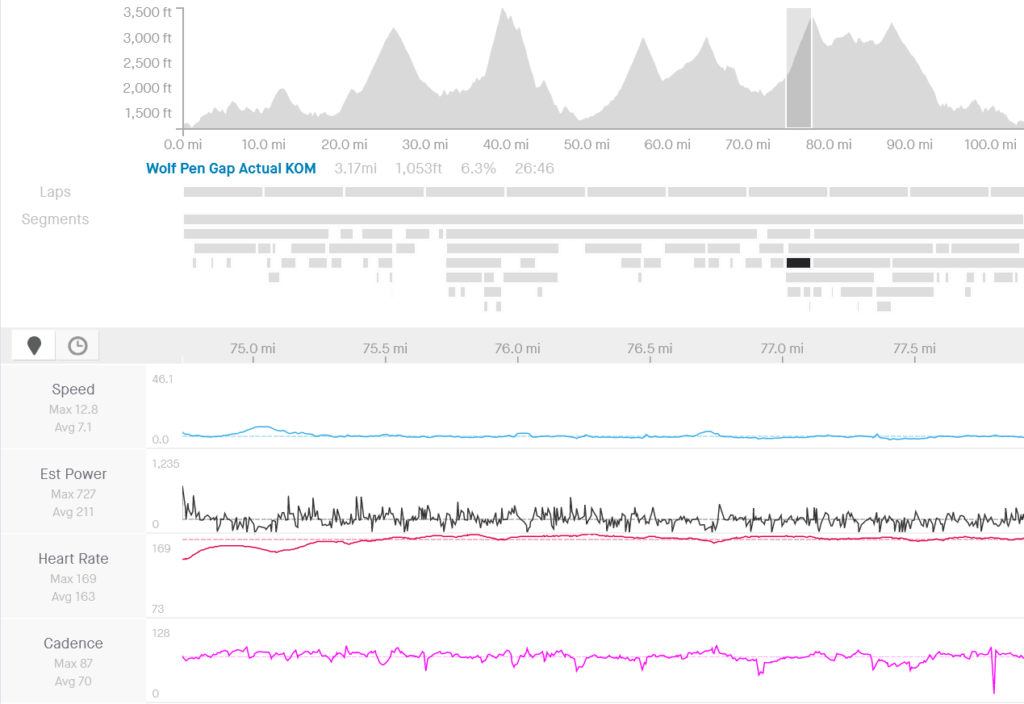 The Details – Wolfpen Descent to Finish
I felt really good at the top of Wolfpen, and the descent was another fun one. But I think my muscles cooled down a little too much while I was resting. As soon as the terrain leveled off again (at exactly mile 82), cramps started forming for real. The best decision I made all day was to get off the bike at a church parking lot to stretch and massage my legs. It was a good investment of time. I got back on the bike and felt good.
For exactly 5 miles.
Just before mile 87, the same thing was happening again. I took my time again…a little more time, and while I was stretching and massaging I realized the problem was the cooling of the muscles and that I could feel the issue most in right leg at the top of the stroke. So a little change in tactics for the finish–keep the legs moving as much as possible, even hitting some strokes now and then when descending, and don't stop at the top of that stroke.
It paid off, and I'm glad I took the time to figure it out. I could feel a bit of a cramp every now and then, but I worked it out as best I could without stopping the machine from going forward. Woody's Gap wasn't too tough at all, even at this point of the ride.
The original plan was to ride as hard as possible from Wolfpen to the end. The plan was also to change the plan if the plan needed changing.
On that last big descent, I started piecing together what was going to come next. I knew I had the cramping issue going on, and as I tried to calculate about how much time was left to complete the last 18 miles, I was having trouble doing the math.
Now, I'm a math guy. You have to know this. And I have enough experience to know that when I'm having trouble doing math on a run or a ride, it's a real sign of fatigue. So even though I felt pretty good I decided to be conservative–the cramp situation and the "can't-do-simple-math" situation were signs that I needed to pay more attention to finishing than to the clock. It was a little frustrating to see groups go by me and know that I had the ability to run them down and finish with them, but…
Did I actually have the gas to run them down? Then what? Would I have enough to hang? If not, it would have been a waste. What if I had another cramp while putting in that effort and I had to get off the bike again?
I figured it was too much of a gamble for a very small potential payoff. I was really close to finishing, and getting into a group was going to save me a few minutes at best. And for what? Nope–I decided to play it safe, enjoy the scenery, and get home in a time that was way better than I'd been hoping for. I'd already secured what, for me, was going to be a great finish, and I wasn't about to risk it.
So I rode the last 18 miles alone. Fitting, because I almost always ride alone. 😀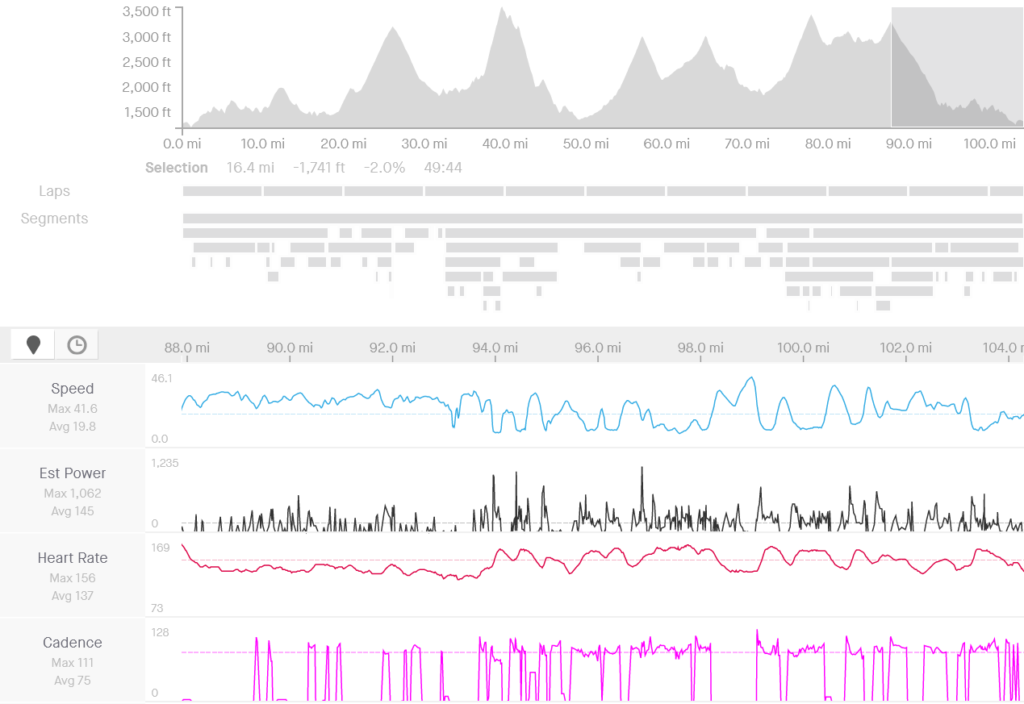 I will say that the rollers at the end were kinda brutal. I mean, not hard climbs at all, but I guess I had it in my head that you could climb the 6th gap and then just coast. It doesn't work that way. LOL.
Still, I finished with a clock time of 7:32:xx, chip time of 7:27:xx, and a Strava moving time of 6:56:17. I was shooting for 8:00:00 as a chip time, and would have accepted that for a moving time, so needless to say, I was ecstatic with what I'd done.
Post Race
I coasted over to the car to find Juan sitting in a chair relaxing. I was pretty beat, and it was all I could do to remove some clothing and shoes and get my stuff together to go take a shower. As I said, that shower was amazing. Really hot water and great pressure–like a massage. Funny thing–I enjoyed that shower so much that I had a flash right in the middle of it that scared me to death. Was this real? I was scared I was about to wake up from a dream in our hotel room and have the entire ride ahead of me.
I also took Juan's advice and applied the Inbike Amino Recovery salve we'd received at packet pickup. Amazing! I knew for sure I'd be cramping the whole way home and in bed that night, but this stuff fixed me up–absolutely no issues, which I didn't think was possible after an effort like this. By the time I'd gotten dressed and had a few cups of sweet tea I was a new person–completely different demeanor when I got back to the car.
We got everything packed up for the trip home and headed into the school cafeteria where we saw Justin and Todd eating. It was great to share some time with them after the race. We also saw Dallas on the way out–he was waiting for Dave at the finish line.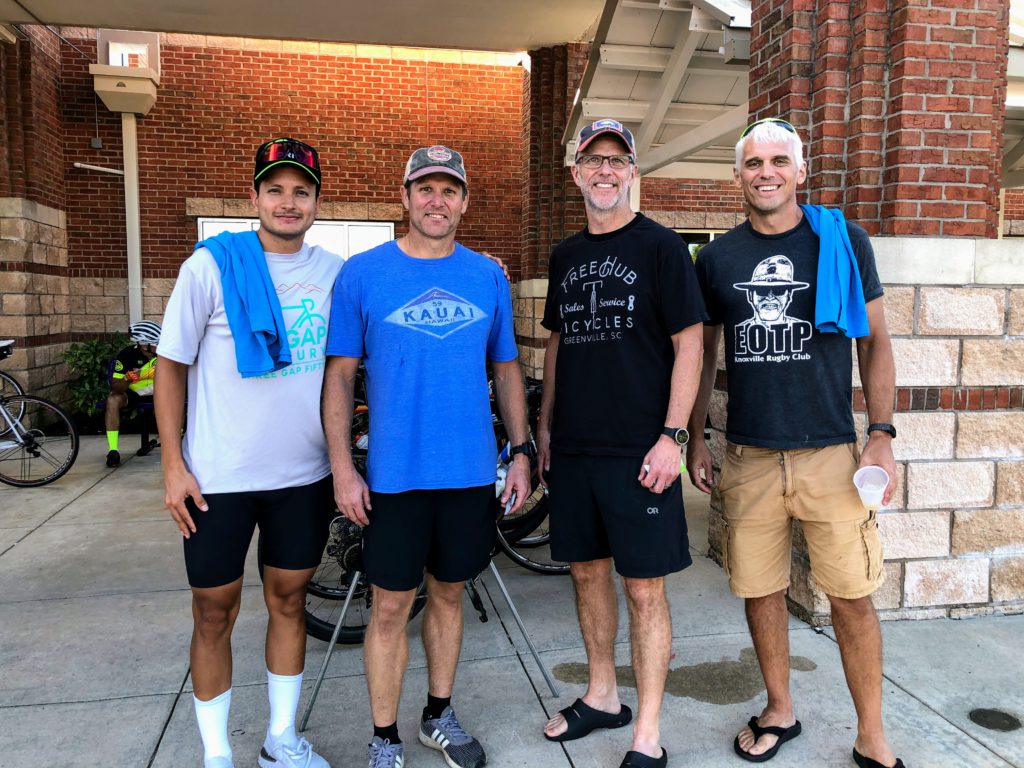 My biggest worry was that we were all going to be doing this together but separate, and I'm really glad I got to spend some time off the bike with my friends at this event.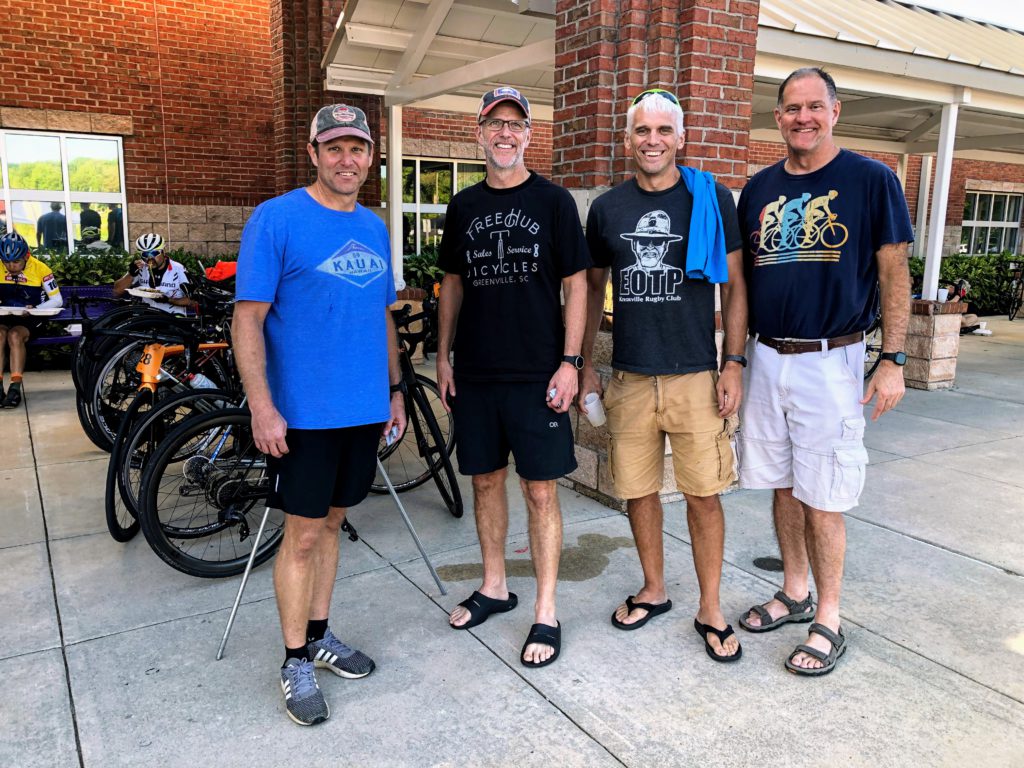 Wrap Up
Amazing event. I don't know if I'll ever do 6 Gap again, but 3 Gap is a definite possibility. I enjoy cycling, but not enough to let it take time away from other things like jiu jitsu (which I hope to start back soon) and even things like rock climbing. Three hours on the bike is enough for me, and I'd rather not have cycling training be my focus.
But I'm really glad I got to do this with some cool people.
Most importantly, I happy I got to honor my friend's memory by riding his bike on the same roads he loved to ride. I'm sure that he was up there somewhere watching me suffer and laughing his butt off, not just in the race, but also in the training.
Bill was a guy who was always there to push you to be more than what you are today, and this ride pushed me for sure.