Shock and awe! Did not see this coming. I honestly thought I was at least a year away from this happening. A lot to say about that, but I'll save it for a different post.
My general opinion on belts/stripes is that I just wear whatever my instructor tells me to wear. A changing belt color doesn't change anything about me from one day to the next. For me, a promotion doesn't need to be anything more than him throwing a stiff new belt at me at the end of training and saying, "Wear this the next time you come in here. "
But I'll admit that I've taken some time to pause and reflect on this one for several reasons, which will also result in more posts if I'm not too lazy to write them. I'm starting to understand why promotion is a big deal in the broader sense, even though the ceremony of it all may not mean that much to me personally.
For instance…
I had to switch gyms when I started back training in Florida in December 2021. As much as I love everything about Off The Grid, the class schedule was a struggle for me. I meant to get over there and train for the whole month of November, but just couldn't make the classes. Being a one car family now didn't help any either. When I texted Professor Frank to tell him my situation, he immediately responded, "Go train with David–I'm just happy to hear that you're going to be training again!"
That's what kind of guy he is. None of that crap about loyalty or anything–he's just happy that I've got the BJJ bug (that he put there) and am continuing.
Anyway, I showed up to class at Carlson Gracie Melbourne as I normally do and was warming up when I all of a sudden saw a ton of my old training partners and Frank there. I knew then that something was up, and immediately realized I was probably being promoted. Why else would they show up here and sneaking in through the back? Honestly, it was very awkward for me. I don't like being the center of attention.
But…man! I can't express how it feels that so many of the people who built me showed up for this. When Frank and David called me up at the beginning of class and said, "You're number is up!" I was overwhelmed. I mean, I didn't cry or anything, but I really didn't know how to react. I was speechless.
As I later told my old teammates in a post, I don't even feel like I "have" any jiu jitsu really. I just have little pieces of their jiu jitsu that I've cobbled together. Every movement, trick, defense, submission, transition, escape I have came about from what they've taught me and beat into me. My new gym has definitely made a big contribution in a short period of time (new perspectives–also a separate post), but the bulk of the reps and rounds were with these folks.
Being promoted by both of my coaches at the same time took away a lot of the awkwardness. And it says so much about both of these instructors that it went down like this. That David would invite the OTG crew and that they would show up says everything about why I consider these gyms my extended family.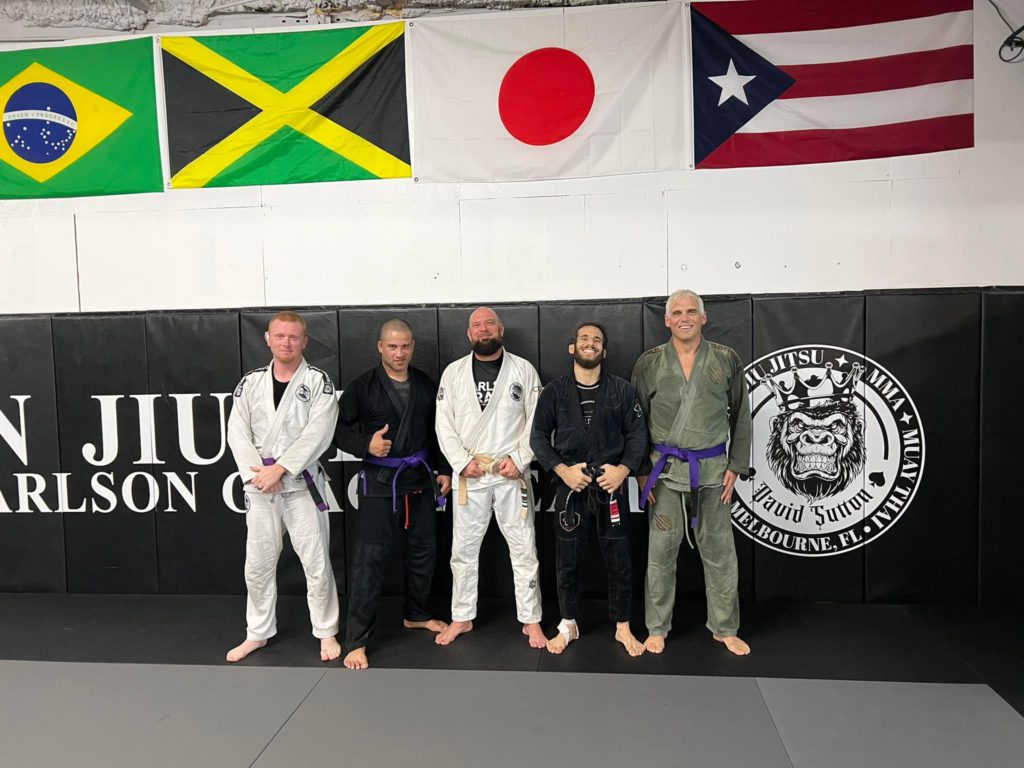 And then…my boy Ed got his purple belt too! Ed and I started BJJ on the same day. We were promoted to blue belt together. He's my best BJJ frienemy. We have spent countless hours beating the doo-doo out of each other. For instance, one day we were the only two people at an open mat and we decided to roll until one of us tapped.
I lost, but it took us 56 minutes to get to decision. Ed is my boy!
So, enough of the mushy stuff. Like I said, I have a lot more of that coming. But here are some stats, because people love to ask the question, "How long does it take to get your purple belt?" Your mileage may vary, and I know people who are younger and more athletic who've done it a lot faster than me, but..
Training sessions: 392 as a blue belt, 594 total
Mat time: 755 hours as a blue belt, 1,110 hours total
Days: 1,626 as a blue belt (*1,063 discounting covid break), 1,519 total
Uncountable number of taps
1 Competition as a blue belt
1 dislocated/broken rib
1,000,000 lessons learned
1,000,001 lessons forgotten
A bunch of connections made with people I probably wouldn't know otherwise
A lot of introspection and realization (jiu jitsu really is life)
Never ending excitement about showing up to the next class
As much as I can't wait to just get back to grinding/training and forget about belts, this has forced me to realize a few things about this art that separates it from any thing else I've ever done. Not much of it is belt specific–it's more about the _________ that is jiu jitsu. I had do leave a blank there, because I don't know if there's a word in English that describes what BJJ is.
If that word exists in another language, I don't know that either.