Titled in honor of an old football coach who didn't curse, but used these two words liberally. I never really figured out for sure what "piss farting around" is, but I know he would yell it at us for doing it twice a day in the late summer. And that's the theme for this week…
Two-A-Days!
The big ride(s) of this week were both virtual, and both around 60 km each by the pixel count. I did two group rides on Saturday of the Petit Boucle course and the Tire-Bouchon course. I have no idea what those words mean, but I had about an hour between finishing one and starting the other. That gave me some time to go inside the big house, eat, refill water bottles, and literally chill for a bit before going at it again.
The first was really nice. It was a 'C' ride, and of course I was dropped early because I couldn't hold that pace for 60k. Luckily, a couple of us slower folk hooked onto the wheel of a guy who was doing 2.4 w/kg steadily, which let us run at just under 2. Eventually we were the only two in our group, and I was able to pull the hills for us. He was even bigger than me, so the downhills were really nice.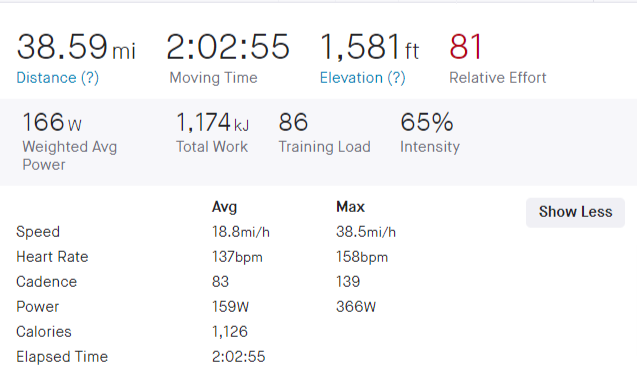 Not so lucky in the second ride. I was solo the whole time. 🙁 The only bonus is that we were on a course that was not one of the Zwift worlds of the day, so once the group ride was over and I kept pedaling on an empty course I ended up with a KOM jersey. Had to take a picture, because you won't ever see this again.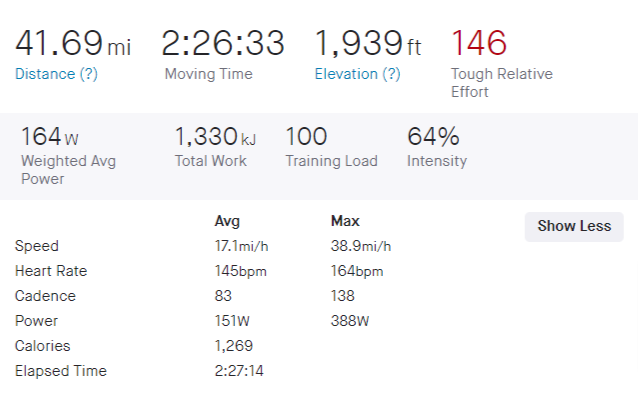 I also did a couple of easy rides, and another trip up the Alpe de Zwift. I'm doing this ride repeatedly and using it to experiment with cadence. I'm going to need to keep my heart rate in check to have a good day at Six Gap, and that's means being aggressive (but not TOO aggressive) on Hog Pen Gap. I worked on a lower cadence here while continuing to push the watts.

It felt like I was getting a PR, but I ended up about 3.5 minutes off my best time where I pushed more watts at the same cadence at a lower heart rate. I need to do some more work to figure out why that was because it could give me a hint of what will work for me on pain day and my fitness/freshness leading into it.