So, yeah, I'm reviewing the race. I can't help but do that because I'm happy with my results. But I really want to give some thoughts on the new categorization system Zwift is testing out. Basically, it places you in race categories of 1-6 instead of the traditional A-D they've been using. They're using the WTRL Zwift Classics Series to try this new system out.
Spoiler alert: Scotty Likey.
The old A-D system is based solely on your watt/kg number. For me, that's currently at 2.89, which is a solid C. Yeah…the denominator of that number is too large. I'm working on it. But this single measure doesn't say a ton about you as a rider. Are you a good climber? A good sprinter? Are you punchy? Are you at time trial specialist?
The Cat1-6 system uses your registered numbers on ZwiftPower and considers many more factors from your past performances. When I went through the process of getting categorized, I was a little disappointed that I ended up a '5'. I was so sure I was a mid-range 4.
Well, after racing last night, I think the categorization system put me in the right place. Whatever it's labeled, it put me in with folks I can race with, but can't beat. At least not yet. I was hoping I'd be in the top third of finishers, and ended up 6th out of 21 in the race. I could just have easily been 7th, but I happened to get the perfect power up (aero boost) for a big guy to finish on a short flat right after a big downhill. I literally crossed a fraction of a second ahead of 7th.
So…yeah. Top third.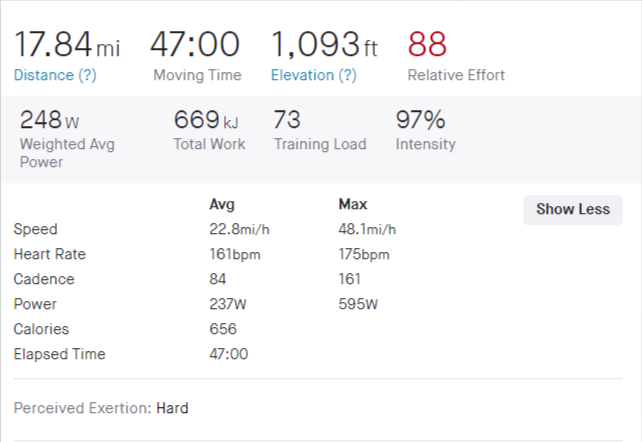 I did some recon before the ride, watching videos others posted from previous test races. After seeing Cat 4, I knew I would not be able to hang. The Cat 5 race I watched looked doable, but painful. One thing that stuck out in both races was that (as always) people come screaming out of the gate and push for the first 1k. Knowing this, I went way harder than I wanted to go in order to stay in the lead group out of the gate and just try to stay with the group for at least the first lap.
The lead group was made up of 10 riders, and I made it a point to attack on the first KOM, just to see how others would react. Everyone stayed with. One guy kept riding out solo, but no one chased–the group of nine could handle a single flyer an reel him back in.
We remained a group of 10 for the first two laps, and the second lap was much more calm and had a pretty steady rhythm. But I knew from my recon that a big attack was coming. I got a feather power up at the start line and opted to hold it for the climb. Man…EVERYBODY attacked. and the pretenders (I was one) were detached quickly from the top 5 riders. Three of us quickly separated ourselves, then settled down a bit.
Just before the KOM banner I attacked hard, knowing that the mostly downhill finish benefitted me as a big guy. What I didn't know was that one of the other two guys was even bigger than me, and he cranked out some serious watts on the downhill to catch back up with me with about 1k to go. I jumped on his wheel and held on, hoping he didn't get the aero power up at the KOM banner like I did.
Lucked out, and was happy to edge him out. Looking at his numbers later, we are really well matched. Hopefully I'll be seeing him in the East Coast time slot on some of the Classics!