Zwift crashed on me during the 6th lap of an 8 lap ride today. Frustrating, but more frustrating because I want to at least look at the stats of the part of the race that were recorded. I did some research and found a great solution — FitFileTool.com –that will repair partial Zwift rides using their "Corrupt Time Fixer". It'll even upload the workout to Strava for you.
Great, right?
Not so fast. Everything seemed to work well. I could see the individual activity on Strava without any problems. But when I went to my feed and profile the activity wasn't there. What the?!?!
I checked one more place…my activities. Not showing up there either.

But what happens if I search for it. There it is! It's just showing up as happening on January 6, 2015 instead of March 5, 2021.

Sure enough, when I go look at the activity, it has the wrong date and time associated with it.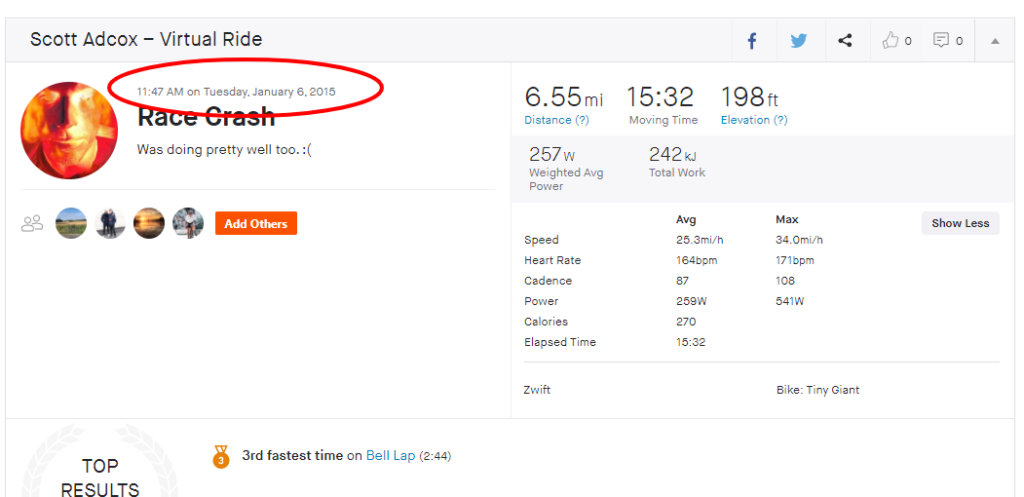 The Fix–Not Exactly
My first inclination was to download the file with the wrong date from Strava, do a search and replace for all the dates in the file, then upload it again. That mostly worked, but I think the local timestamp of the virtual location the race took place threw things off.
There's a better way
Go back to the original file that was repaired for you by FitFileTools and run it through one of their other utilities–the "Time Adjuster". This lets you set the start date/time of the activity and makes that fix for you.
Download THAT file and upload it to Strava, and you should be all good.