10.5 hours | 161 miles | 10,407 ft climb
We must undergo a hard winter training and not rush into things for which we haven't prepared.

Epictetus
I tried to make it a pretty big week. We're headed up to TN for a bit, and this coming week is going to be hectic. I'll probably get to ride on Tuesday and Friday and Sunday for sure, but the other days are toss ups. So I need to make those three rides all matter–no junk miles. Friday is already planned to be a longish outside ride in the mountains of God's country! Can't wait!
So this was my last week of Zwift racing before Six Gap–time to buckle down, focus, and forget about 1 hour hard efforts for a few weeks. I did the last Zwift Classics race on Tuesday, and I thought I was really going to do well in this one. The London Classique course is set up perfectly for my size and riding style–big guy going a steady speed/effort the whole way. But for some reason I was feeling off–just couldn't hang on after the second sprint effort. My HR never really recovered, and I was probably stupid for going for points there. That big-burst sprint is not what I've been training for. Again, I'm lucky that our boy Hal Wye posted this race. Wish I could have stayed with those boys the whole way!
And thanks to all of the fine folks who raced the Eastern European time zone this season. Huge turnout every week, which made for fast times. It was great to be able to hit these on my lunch break and never have to worry about being stuck out on a course alone for long. There's always someone to ride with in Eastern Europe!
On Thursday, I was back at it with the Dirty Wattz for the ZRL Team Time Trial. We had some strong Bs in our squad this week, and I think I was in the front of the train for less than 2 minutes total. I was barely hanging on the whole time, even though I was being pulled and protected. I'm telling myself this is a good thing, because it means I've acclimated myself to longer but less intense efforts. One thing I'm encouraged by is the amount of time I've spent during this training with constant cadence. Even when I'm not on hills, I'm not taking a break from spinning (except on the downhills). The ability to spin for a long time should pay off on long climbs at Six Gap.

On the other hand, it was a really good course for me, and I struggled with it. I was definitely putting up bigger numbers in May on these TTTs, and I was heavier then. Robbie got a pretty good screencast of the first 20 minutes or so of this one before he peeled off–I love his setup.
I had zero left for the finish on this one. Again, telling myself this is a good thing, because it's not what I've been training for. But the pace was hot, and the competition between the Dirty Wattz teams definitely fuels the fire.
I took Friday and Saturday off…sorta. I did jump on the bike briefly on Friday to knock out a really short ride with a 37 m climb so that I could finish off the Tron Bike. That sucker was painful to get, but I got it.
Though I prefer to ride long on Saturdays I bumped it to Sunday this week. I was dreading doing the Mega Pretzel, after bailing on it mid-ride a couple of weeks ago. But this one had to be done. No Radio Tower climb, and no trip up Alpe du Zwift like in Four Horsemen, but that second time up the Epic KOM in this one is just mentally defeating. You feel like you are always going uphill on this course. The downhills just aren't enough time to really feel rested. At least on ADZ, you can jump off the bike, go get some food/liquid, come back and your avatar is still going 65 kph down a mountain. Not so here–if you get off the bike for any amount of time, the avatar stops. It keeps you pretty honest.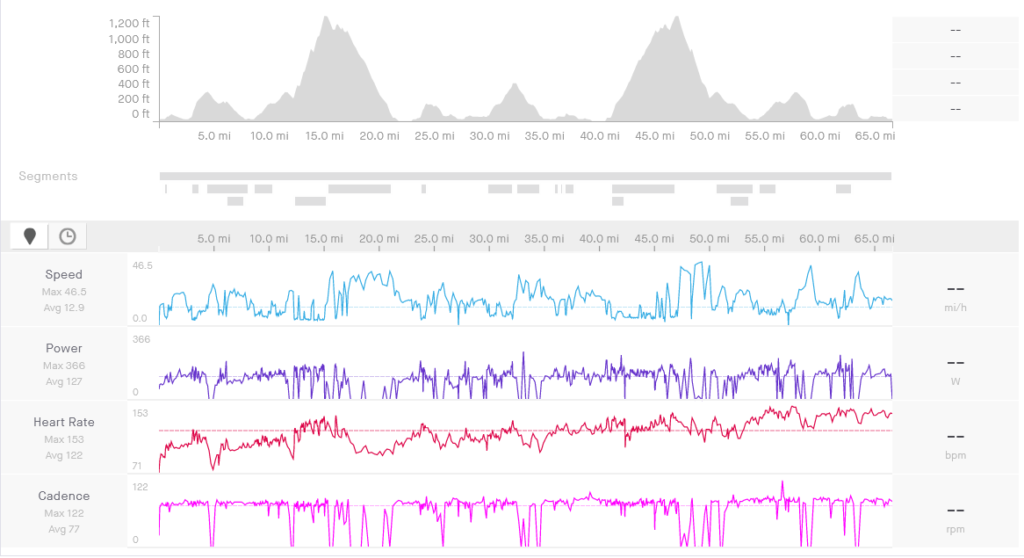 But, I got it done in a little over 5 hours. I switched to the MTB for the jungle sections (ick), and looking back I wish I'd used a TT bike for most of this one. I was on my new Tron, and it didn't occur to me until about 10k left that I'd not drafted AT ALL for the whole ride. Watopia was pretty empty yesterday, so I did this one as a solo effort.
An update on weight–I was below 184 pounds when I got off the bike after this ride. I made sure to re-hydrate all afternoon/evening, and did my best to clean out the fridge and put some calories in me. I'm good at this–it's my forte. I was able to get up to 190 by bedtime, but I think I've broken through that weight loss plateau I hit a few weeks ago, and I may be able to shed another few pounds by pain day.