Alternate title: The Good, The Bad, and The Ugly
The Good: I have an image that proves I was actually with this group at some point of the race
The Bad: It was evident early on that I couldn't hang
The Ugly: My heart rate and recovery
Some background…
I've been doing a weekly Zwift recovery ride on Wednesdays with the Vikings – Valhalla team. This ride is super-fun, super-inclusive, and they seemed like a great group of people to ride with and represent. It didn't take long to realize that this was the team for me. I'm doing this for fun and health, not for champeenships or money. Is there any money in Zwift racing? A different topic to explore.
After doing a race where I was not up to snuff, I can confirm that these are some cool people. No one dogged me out for not being able to keep up. In fact, they did everything they could to keep me in the group and only dropped me after the 2nd or 3rd time I told them that they should drop me.
As a member of a team I definitely feel like I let them down. But the best thing I could do was to let them go on without me. These guys were way stronger than me, and as I watched them finish as I continued to putter along the course I was amazed at the effort they put in. I have a lot of work to do before I try one of these again.
Race Report – Or at least the part I participated in
Zwift TTT is made up of up to 8 riders, and the time of the top 4 riders to cross the finish line is what counts. In the league we were in, there can be 3 "B" class riders and the rest "C" class. I'm a C rider, which means the responsibility to pull the group and ride at the front didn't fall on me as much as others. We had a team of 6 in the start pen, but one of our riders had a technical issue, which had us start with 5 riders.
The call was to ride on raw watts over w/kg because we were riding a flat course. We were shooting for 300 watts at the front.
That's 3.2 w/kg for me.
*Gulp* That's hot. I was already a little worried. In the start pen I noticed my HR was over 100, and I wasn't even pedaling–just nervousness and adrenaline, and that didn't serve me well at all. Then again, they were only asking for 15 seconds of effort from me for my turns. I was determined to stay on for as long as I could, and I knew it was going to be about recovering for the 1:45 seconds my teammates would be pulling.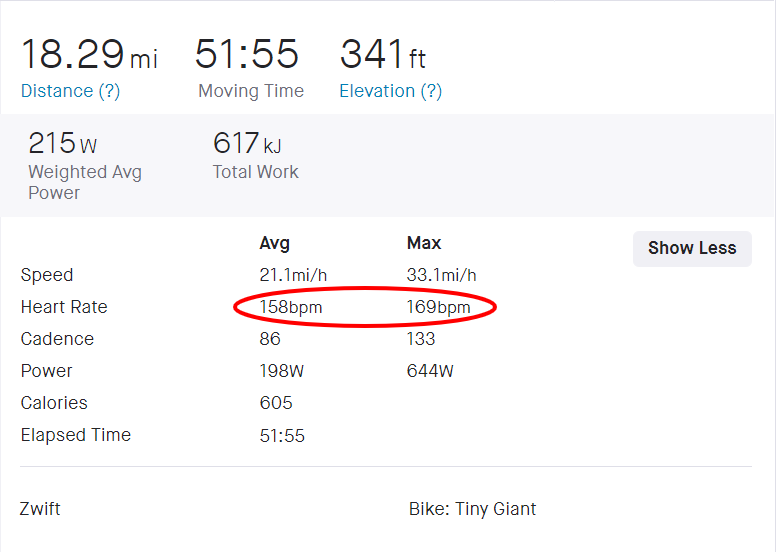 Since I've started riding again, the highest HR I've touched so far is 173. And I mean that I TOUCHED it. I can't stay there for any amount of time. So I was really mindful of where my HR was and paying close attention to it. Two minutes into this ride I hit 158 on a pull, then I recovered. I hit 160 at ~4:00, and I recovered.
At ~5:00 I hit 161, and I climbed up to 169 in the next three minutes, and it just wasn't recovering.

Somewhere between 10 to 13 minutes I fell off the back, and teammate Sylvan pulled me back to the group. I stayed in the 4th position for the rest of the time I was with the group, until the 20:00 mark or so. But I was stuck in the mid 160s and still struggling, so I knew I wasn't going to be able to do this for another 25 minutes. I fell off again, and Sylvan slowed down to try and help me catch back up, but I was cooked. I was having some trouble with Discord to tell the guys to go without me–wasn't sure they could hear.
When they made the call to drop me (great call!) I was tasked with "just finish". That way if someone else had an issue we would at least get credit for the race…just a horrible time. It's clear from the power graph above that I immediately started soft pedaling and trying to recover. I knew my best chance for a better time was to get my HR under control and then ride the best I could.
It took me 12:00 to get my HR under 150! Once I recovered, I tried to keep my HR at a reasonable rate and get the best time I could. Pretty boring work, so I decided to watch the rest of the team finish. Wow–the effort those guys put in was inspiring to watch. And it was great to hear how happy they were at the finish line!
They finished at ~44:00. There's no way I could have stuck with them. No way. It's crazy to look at the graph of Sylvan's ride to see how much he was recovering when trying to pull me back to the group. And the work he put in after I dropped is just crazy.
I still had 2.6 KM to go after the team finished, but now there was zero pressure to get any kind of time. Just riding for pride at this point, and I'd already had that taken from me LOL. I pedaled into the finish and did the sprint at the end. Woopity Doo!
Ok, so how do I fix this?
I learned a lot on this ride, and it's pretty evident what I need to work on:
Increased FTP–I have a lot of room to grow in the C class
Weight loss (to give me better w/kg)
Intervals, intervals, intervals
So Friday was a light swim day–just short and easy to get the heaviness out of my legs. Today I'm doing the last Tour de Zwift ride that I missed to get every stage completed and a short easy run. After that (and a rest day on Sunday) the work begins.
Monday: FTP test. I need to baseline exactly where I am. I think my rating on ZwiftPower is a little inflated at this point because I've only had a smart trainer for a week. It's evident that the power readings (estimated) from my dumb trainer were super inaccurate as the power increased. So I need a better baseline
Tuesday I'm going to take a rest day. Well, a rest from cycling. I'm actually going to get to roll on Tuesday! Woot!
Wednesday is going to be the start of a 6 week FTP builder. That takes care of increasing FTP, and if it's like other plans I've done before there are lots of intervals on the menu.
And for the elephant in the room…almost literally…weight. When I was at BJJ peak fighting shape, I was walking around at ~190 pounds for most of the day. I was never under 200 when I was doing triathlons back in the day, and I think that extra 10 pounds made a big difference. I just hadn't been small in so long I thought 200 WAS small. Now I'm aware of how much more athletic I feel at 190, and I'm motivated to get there from my current 205. Picking up some BJJ training is going to help with that for sure, but it's going to be a tough row to hoe.